A Diamond man, who was found with a quantity of marijuana for trafficking, was yesterday sentenced to three years in prison after telling a court that he was forced to sell drugs to feed his family because a previous murder charge cost him his job.
The courtroom of Chief Magistrate Ann McLennan heard that on November 24th, at Grove Public Road, East Bank Deme-rara, Nigel Sookram, 34, of 1892 Diamond, East Bank Demerara, had 23.5 grammes of cannabis in his possession for trafficking. Sookram pleaded guilty.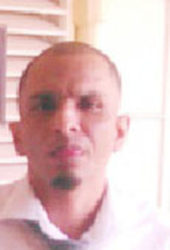 Police Prosecutor Kevin London told the court that at 1am on the day in question, police officers from the Narcotics Branch were on a mobile patrol at Grove Public Road when they observed Sookram.
He said the officers approached Sookram, questioned and then searched him. According to London, the officers found 77 ziplock bags containing leaves, seeds and stems, suspected to be cannabis. The accused, he added, told the police, "It's a lil' sour diesel I hustling, give me a chance."
Sookram told the court that he is a father of two children and he was trying to make money to support them. He said that in 2008, he was charged with murder and was remanded to prison until he was found not guilty in 2014. Sookram said prior to his release, he had secured a job. He said he was later let go after his boss learned that he was a "murder man." "I had to do it. I did not want to thief, so I had to hustle," Sookram told the court.
The Chief Magistrate subsequently sentenced him to three years in prison and fined him $35,250, which was the street value of the drugs.
Sookram, Steve Sookdeo, Roy Anthony Sewnarine and Vishal Seecharan were charged with the murder of Canal Number 2 grandmother Budhia, 68, who died while suffocating on a cloth shoved in her mouth during an armed robbery in 2008. However, the men were freed after they were found not guilty at the conclusion of a High Court trial.
Around the Web