Three men, including the manager of the Double Day Hotel at Tuschen, East Bank Essequibo, were on Thursday evening arrested for questioning in connection with the 2012 murder of Sideek Juman, who was found dead in the hotel pool.
This was confirmed by Crime Chief Wendell Blanhum, who told Stabroek News that ranks from the Major Crimes Unit arrested the three men at different locations along the West Coast of Demerara.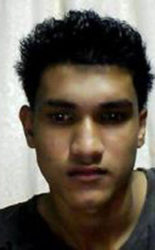 In addition to the hotel manager, a driver for the hotel and a contractor are the others who remained in custody up to yesterday afternoon.
Juman's body was fished out of the hotel's pool on November 19th, 2012. At the time of the discovery, there were visible marks of violence about his body and his head was swollen.
A post-mortem examination proved that he died from asphyxiation and that "blunt trauma to head" also contributed significantly to his death.
Police sources told this newspaper that the suspects admitted their involvement in the crime to several individuals and were even heard discussing who would be vulnerable if they were arrested by police.
Juman went to the Double Day Hotel on November 18th, 2012, where he saw a female friend with another man. As a result, he and the man had an argument, during which the three suspects allegedly beat him until he fell unconscious. They then removed his body to a room at the hotel. However, after realizing that Juman died, they then reportedly dragged his body into the pool to make it appear as though he drowned.
His relatives were convinced that he was murdered since his personal belongings, including his clothing, which he had removed before taking a dip, his BlackBerry cell phone and his wallet were missing. Juman's relatives had previously told this newspaper that they believed he was "lured" to the hotel. He had gone to visit his grandmother at Ruby, also on the East Bank of Essequibo, when he received a call to go to the hotel.
Two of Juman's friends, a man and a woman, both in their early 20s, were initially arrested along with another man but they were all released after questioning.
Around the Web