Former Cuban president Fidel Castro was yesterday hailed as a friend to Guyana by local political leaders, who said he would be remembered as an inspiration for his revolutionary commitment and generosity as a leader.
Castro, a former revolutionary fighter who led the Caribbean nation for 50 years after seizing power in 1959 following his overthrow of Fulgencio Batista, died on Friday at 90 years old. He served first as prime minister from 1959 to 1976 then as president from 1976 to 2008, when he retired from public life.
President David Granger, speaking with reporters yesterday, said that he was deeply saddened by Castro's passing. "His life was of significance, not only to Guyana and the friendship he had with Guyanese leaders, but also to the entire Western Hemisphere," he explained. He noted that in 1972, Guyana along with Barbados, Trinidad and Tobago and Jamaica established diplomatic relations with the country and since then has maintained a cordial, close relationship with Cuba.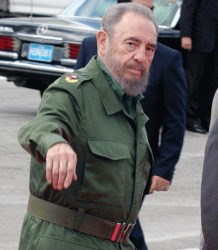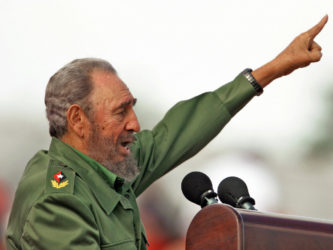 "Right now we have many Guyanese, who are being trained as doctors in Cuba. We have Cuban doctors working here and there have been lots of engagements at different levels; educational levels, technical levels… so we are deeply saddened by the passing of President Castro," Granger said, while crediting  Castro with transforming politics in the Western Hemisphere.
"He certainly transformed politics in the western hemisphere and we would like to express our solidarity with the Cuban people in that regard," he stressed before extending condolences to Castro's family, particularly his brother, President Raul Castro, as well as the entire Cuban population.
Former Foreign Affairs Minister Rashleigh Jackson described Castro as a very charismatic leader, who displayed great integrity and courage throughout his life.
Speaking with Sunday Stabroek last evening, Jackson, who served as minister from 1978 to 1990, said that he was impressed, not just with Castro's determination but with his ability to persuade the people of Cuba to accept and support his point of view. "I remember seeing him speak on two occasions and each time the outpouring of support was amazing," Jackson said.
He added that Castro's example in the face of the isolationist policies of the United States was an inspiration to Caribbean people who suffer oppression and he continues to be held in high esteem by Caribbean and Latin American revolutionaries.
Jackson explained that the efforts of the United States to isolate Cuba through the economic embargo, which began in 1962, had for decades served as rallying cry not just in the western hemisphere but the world over as each year more states added their support to the call to remove the embargo.
Jackson also noted that since Guyana led the initiative which ended Cuba's isolation in 1972, the nation has been a consistent ally and Castro himself publicly expressed gratitude for this overture when former president Forbes Burnham visited Cuba in 1975.
Meanwhile, the Guyana Government, in a statement released by the Department of Public Information, hailed Castro as "an outstanding friend and a genuine partner, even before the country attained independence."
"It was under his leadership that [the] Guyana-Cuba friendly and fraternal relationship had been placed on a solid and unbreakable footing," the release stated.
It added that even after "an unjust embargo had been imposed against Cuba to isolate the Castro government, Guyana, joined three other countries in our region to establish diplomatic relations with a fellow Caribbean state and has since been embraced by Cuba as partners.
"Since that time Castro embraced our countries as partners and responded to our critical needs, especially in the health and education sectors. To this day, Guyana benefits from scholarship and training opportunities afforded to our young people in becoming doctors, engineers and other specialists. We continue to benefit too, from Cuban doctors and medical experts serving our people in our health care system. Fidel was an exemplar of unparalleled generosity, revolutionary commitment, national dignity and unyielding patriotism whose greatness is indelibly written in the history of the world across two both the 20th and 21st centuries," the release added.
Leader of the Opposition and former president Bharrat Jagdeo, in a Facebook post, expressed gratitude to Castro for his unfailing efforts to defend Cuba's right to self-determination.
"Thank you for showing us the path to self-reliance and dignity. Thank you for leading by example and standing up for your beliefs. Thank you for showing the world that small states matter and have much to offer," Jagdeo said.
Additionally, former president Donald Ramotar hailed Castro as a profound thinker and champion of the oppressed whose name and work will endure throughout the ages.
"He led by the clarity of his views on important world issues, including the huge debt that the third world was saddled with. Those efforts contributed to a change in policies that led to debt write–offs and debt forgiveness. This giant, this larger than life figure is now no more. However, he will be mourned by working people and the oppressed the world over," Ramotar said in a statement.
In a statement released last evening, the People's Progressive Party (PPP) said Castro's passing is a great loss not only to the Cuban people but for freedom-loving peoples throughout the world.
"He stood as a beacon of hope for oppressed peoples throughout the developing world in particular Africa, Asia, Latin America and the Caribbean. His role in the national liberation struggles in several countries of the world in particular Africa is testimony to his unflinching solidarity with the poor and the oppressed," it said.
The party added that it remains eternally grateful to Castro for coming to the rescue of the PPP government during the early 1960s, when it said attempts were made by hostile and reactionary elements to destabilize the Jagan-led PPP administration.
During the previous PPP/C administration, it added, Castro again extended a hand of friendship to the Guyanese people when he granted hundreds of scholarships to Guyanese students to pursue studies in medicine and in other technical fields in addition to technical assistance rendered to the government in a variety of areas.
It noted that Castro has left a rich legacy of revolutionary struggle for a better future not only for the Cuban people but for humanity as a whole.
Around the Web