The family of an 18-year-old girl, who has been missing since Wednesday, is pleading for her safe return home.
Missing is Indira Jaipersaud called "Indy" of Lot 9 'C' Good Hope, East Bank Essequibo.
Jaipersaud left a internet café located in Tuschen, EBE, where she works, just before midday on Wednesday to visit the secondary school she attended in order to collect a job letter and has not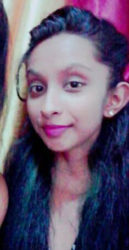 been seen or heard from since.
Her mother, Daywattie Singh said when Jaipersaud did not return home from work by 6.30 pm on Wednesday, they became worried and began searching for her. She said they checked her workplace which was already closed for the day and the homes of several relatives but came up empty handed.
Several calls made to her cell phone went unaswered.
According to Singh, she had received a call from her daughter on Wednesday midday informing her that she was leaving work to collect the job letter. 'I ask she if she coming home after or she going back work and she say she going back work… That was the last I hear from her," she said.
The worried mother said she knew of no problem Jaipersaud was experiencing and it was not customary for her to leave and not return for days.
Jaipersaud was last seen in the vicinity of the Tuschen Public Road wearing black leggings and blue long top with pink imprinted flowers.
A missing persons' report was made to the police. Anyone knowing the whereabouts of the teen is asked to make contact with the nearest police station, her mother on 682-7058 or telephone numbers 644-9515, 642-6631, 616-3502 or 686-0428.
Around the Web