With the first anniversary of the death of Joy Thomas approaching, her grieving grandmother takes comfort in knowing that the woman accused of trafficking her is behind bars and she is calling on the authorities to ensure that the victim in the case remains safe.
The woman, who was charged with trafficking Thomas three years ago, got off after Thomas disappeared and failed to attend court. The matter was dismissed even though a sworn statement was made in court that the victim was last seen in the company of the accused. The woman has recently been charged with trafficking another young woman and Thomas's grandmother hopes that justice will be served this time around.
"I am happy… that she is in jail and I hope the police and everyone keep the victim safe," the woman told the Sunday Stabroek in a recent interview.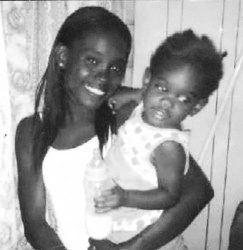 When asked about her granddaughter, the woman burst into tears and it took sometime before she could confirm that Thomas died at the tender age of 22.
"…Joy is dead you know, Joy died on the last day of December last year… Joy died at 8:30 on Old Year's Day last year," she wept, adding that she died in hospital after a prolonged illness.
For her it is not that her granddaughter is dead but the fact that she was never given a chance to have a life despite her valiant efforts. Thomas was born to a drug addicted mother, who still lives on the street. As a teenager, she became involved with an abusive man who was the driving force behind her going into the interior under the false pretence of having her employed as a bartender.
"I blame the man. He did not want to work and wanted plenty money…," the grandmother said.
She recalled that the woman was charged in 2013 after Thomas was rescued by the Guyana Women Miners' Organisation. Thomas lived with her for a short period but later returned to her abusive partner, by which time her accused trafficker had been released from prison. Soon after, Thomas disappeared without a trace.
"Joy was very frighten, let me tell you. But I don't know like somehow she went back with the man because you know he use to use drugs and she too," the woman said adding that at the time she was more concerned for Thomas's then one-year-old daughter.
She recalled that she went to the man's home in 2013 to take some items for her and he informed her that Thomas was not there and that she had gone into the interior with her alleged trafficker with the baby after she was promised $100,000.
Thomas eventually called her but she sounded scared, according to the woman, and after sometime all communication stopped. The man also said he could no longer reach Thomas and it was at that point that the grandmother and other relatives forced him to make a statement to the police indicating that Thomas was last seen entering a vehicle with her alleged trafficker.
He had also testified to this fact, but eventually the matter was dismissed since Thomas, the key witness, never turned up in court to testify.
Suriname
The grandmother was not sure when the matter was dismissed, but in late 2014 she received a call from her granddaughter who indicated that she was in Suriname.
Shortly after, Thomas turned up at her home pregnant and said she had returned to Guyana via the backtrack route.
"Joy never really [told] me anything so it took some time for me to really find out what happen and I had to ask people and so…" the woman said.
From what her granddaughter said, some of which was corroborated by others, she was taken to Suriname and left with a relative of the accused trafficker and was informed that she would be returned to Guyana as soon as the matter was dismissed.
"But the matter keep calling and keep putting down and so she just leave there and she really couldn't go anywhere. I was told that the relative was given money to keep her," the grandmother revealed.
She did not know much about her granddaughter's stay in Suriname but was informed that after the matter was eventually dismissed Thomas was allowed to leave the location.
"She tell me that one day she just walk out the house with the baby and she went looking for a job because she had no money. She found a job at some cook shop and because she had no place to live the people took her in," the grandmother said.
The living arrangement saw Thomas eventually becoming intimate with the son of the woman who owned the shop and she became pregnant. It was then that she contacted her grandmother because the living arrangements had become unbearable.
She then returned to Guyana and her grandmother took her and her daughter in.
"But you know like my house was too confining for her because you know Joy could have gone out but she had to come back by a certain time and so like she could not live with that," the woman said.
She eventually left, but her daughter stayed in the grandmother's care. She later gave birth and returned to Suriname with the child's father in an attempt to get travel documents for her baby girl. However, she later returned to Guyana without the baby and went back to the father of her first child.
It was following this that she fell ill and was hospitalized for months.
"I was out of the country at that time but she was in the hospital for a while and my son would look her after and so on but then she came out and went back with that man and it was like the end for Joy," the grandmother said.
She became ill again and was hospitalized and passed away at the young age of 22.
"That was it for Joy…" the woman said adding that she misses Thomas as she cares for her elder great granddaughter. The younger child lives in Suriname and her father and grandmother would make contact from time to time and send photographs. But the woman said she would be happy to also have the younger child in her care so that the sisters could grow together.
"I am in my seventies and I know it would be hard. I had told her [Thomas] I could not take the baby at first but now I wish I had taken the baby," she said.
Never had a chance
The grandmother believes that having been born to drug addicted parents, Thomas never really had a chance in life. Her daughter, Thomas's mother, lives on the streets. "She still lives there, she came to Joy's funeral," she said.
Joy once lived in a state home and had received a scholarship to attend a well-known private school. She attended school while living with her grandmother. However, when she was in third form, her father removed her from her grandmother's home and sent her to live with his sister, who, according to the grandmother, sold drugs.
"Since then she had been back and forth. She stopped going to school and started taking drugs. I tried to help her all I could but it was very difficult," the woman had said in an earlier interview.
The young woman then picked up with a man much older than her, and she later became pregnant. The grandmother said she took her to live with her for the duration of her pregnancy and with the help of a doctor, she stayed off the drugs. But as soon as the child was born she returned to her old habit.
"He would beat her so bad, with a hammer in her head," the grandmother had said. "The last time she was hospitalised and I had to take care of her but as soon as she was well again she gone again."
After the baby was born the grandmother took the child and was caring for her and it was during that period that her granddaughter went into the interior. She claimed that a friend of the child's father told her a woman was looking for a bartender to work in the interior and she jumped at the opportunity since she was receiving no money from the man.
"But she said when she went the woman said she already had a bartender and she only come to do one thing…," the grandmother had related.
After Thomas was rescued by the GWMO the grandmother fell ill and had to leave her home for a short while. She left the baby and one of the victim's sisters in the care of two of her [the grandmother's] children and it was during that time the child's mother removed her.
As she spoke the woman's cellular phone was "acting up" and she was unsure of what to do. "I got a new phone for my birthday and sometimes like I don't know how to operate it," she said with a laugh adding, "I really miss Joy. Joy would have been showing me how to use this phone, she was good with these things."
Around the Web