Members of an extended family of Mon Repos, East Coast Demerara (ECD) are traumatized and in a state of shock after they were beaten and robbed yesterday morning when armed bandits invaded their home.
The incident occurred around 5.15 am at Lot 52 Richardsville, Mon Repos, ECD. The house is owned and occupied by Jahoonauth Singh, a labourer of La Bonne Intention (LBI) sugar estate and his extended family, which includes his two sons.
According to reports reaching Stabroek News, several members of the family including Singh, who also rears cattle, had just awakened and were about to begin their daily chores when the incident occured.
The bandits first attacked one of the homeowner's sons, Besham Singh, who was in the front yard.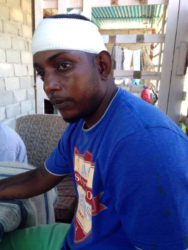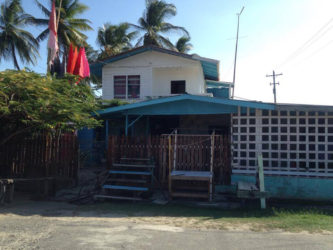 The three bandits, who were masked and armed, entered the yard by scaling the fence. Besham and his mother Maharanie Singh were gun butted and beaten about their bodies as the gunmen demanded cash and jewellery which were handed over to them.
The men escaped with over $500,000 in valuables which included a quantity of jewellery, money and three cell phones. They fled the scene in a heavily tinted Toyota 212 car which was driven by a fourth accomplice. During this period, they fired three shots.
Besham explained to this newspaper that he was attending to his birds and had just returned to the front of the yard when he saw the bandits running towards the house. He said they scaled the fence and ran behind him. "After I see they coming, I holler for thief and run inside the kitchen where my mother went cooking and two of them tek the gun and start lashing we in we head and all over saying hand over the money and jewellery," he related.
After this, the bandits held Besham and Maharanie at gunpoint and ordered that they proceed to the upper flat of the house.
There Maharanie handed over the valuables to them.
However, not satisfied, they entered a bedroom of the house where they held Besham's brother and his wife at gunpoint and ordered that they hand over their belongings.
While all of this was happening, the third bandit remained downstairs and was involved in a scuffle with Jahoonauth.
They then hurriedly got out of the house and escaped in the waiting car which was parked outside.
Neighbours called the police who arrived on the scene and the injured family members were taken to the Georgetown Public Hospital (GPH) where they were treated and sent away.
Statements were taken from the victims and a police investigation has since been launched.
Former attorney general Anil Nandlall yesterday visited the family, said to be his relatives. On his Facebook page, Nandlall posted a photograph with the Singh family and expressed disappointment at the incident, describing the situation as a daily occurrence.
Around the Web