To commemorate the life of Claude Alphonso Merriman, President David Granger unveiled a bust at the Merriman Mall on Vlissengen Road on Saturday.
Merriman was remembered as a man who laboured for the people and fought for their rights instead of his own personal gain. Speaking at the event, Granger said that the unveiling of the bust for Merriman, "a great man," enables the present and future generations to remember him. Granger implored that persons not only remember him by the bust and mall that was named after him but also for his achievements as a public servant.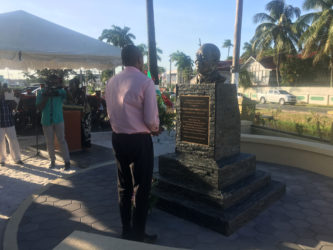 Granger lamented the difficult conditions that Merriman had to live through in the early 1900s, which he said motivated him to work towards improving the quality of life, not only for the citizens of Georgetown but also those who were living in worse conditions in rural Guyana. Merriman was born on November 29, 1912 and passed away in 1995.
Former Mayor of Georgetown Hamilton Green also made brief remarks on the contributions of Merriman. Because of the magnitude of his contributions, Green said that the nation's youths should be acquainted with the important historical facts about the struggles of one of the country's earliest heroes.
Green also recalled when Merriman had decided to fill the Church Street Canal to make what is now known as  the Merriman Mall and his contributions towards developing the National Insurance Scheme.
Merriman's son, Justice Courtney Abel, in his tribute, described his father as a rare breed of public servant, who had an outstanding and dignified career as a community activist and councillor. He said that his father was responsible for the introduction of major innovations in the offices he held.
Claude Alphonso Merriman was appointed as Minister of Labour and Social Security in 1964. He also served in the capacity as Mayor and Deputy Mayor of Georgetown. He was also a popular mortician and operated the Merriman's Funeral Home.
Around the Web