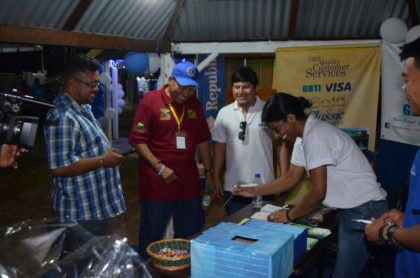 The Sixteenth Rupununi Expo  kicked off on Saturday with scores of patrons from across Guyana and persons in the diaspora participating, GINA said.
The two-day expo was held under the theme "Focusing on Business and Community Development through Partnership".
Minister of Indigenous Peoples' Affairs, Sydney Allicock speaking to the theme of the expo, said that the government recognises that partnership is vital to Region Nine's development,  GINA reported. The Minister noted that the aim is to have the people move away from the dependency syndrome and work together with government to enable development. "The government is going to help as much as possible with technical support," Allicock stated.
Small business owners were urged to think value-added when manufacturing  their products, and to plan properly.
GINA said that the Minister also urged the regional body to take the lead in promoting partnership for the development of the Rupununi. Understanding that development cannot be done from behind a desk,  Allicock stated that his Ministry is currently organising for officers to go into the fields and work along with citizens.
He disclosed that next year, the Music and Arts Festival that was launched in the North Rupununi will be taken to central Rupununi.
Regional Chairman, Brian Allicock said that over the years, the Rupununi Chamber of Commerce has continued to put a lot of effort to ensure that the potential of the area is realised.
The Chairman said that to foster development, the region must be promoted by looking at what the people of the Rupununi could do for the region. "Going around some of the stalls, some of the things that are on exhibit, its diversity and that is what we are here for today," the Chairman said.
The Rupununi Chamber of Commerce, Conser-vation International, Banks DIH Limited, the Guyana Bank for Trade and Industry, the Ministry of Agriculture, Ministry of Business and Inter-American Institute for Cooperation on Agriculture, and Guyana Telephone and Telegraph company among others showcased their products and services at the expo, GINA reported.
Around the Web