Following allegations of misconduct and lawbreaking levelled against police at the Springlands Berbice, Precinct, Minister of Public Security Khemraj Ramjattan on Saturday assured residents in the county that thorough investigations will he conducted.
The Public Security Minister promised that those found guilty will face the full brunt of the law.
"We not only going to go one cop, two cop, the whole set of cops must be investigated", Ramjattan told a gathering at the Number 70 Village  home of murdered carpenter Faiyaz Narinedatt.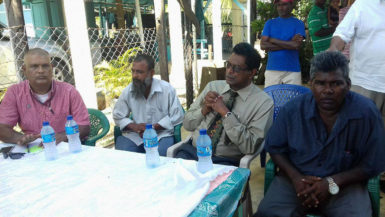 United States-based Guyanese businessman Marcus Brian Bisram, has been charged in absentia with Narinedatt's murder and an Interpol 'Red Alert' notice has been issued for him.
It has been alleged that several policemen and community liaison personnel sought to thwart the probe. Bisram had donated large sums to the community and police  in recent months.
Ramjattan explained the latest law enforcement developments to those gathered and how the extradition process for Bisram will be initiated. "Once arrested, we will have to provide the evidence, that he is indeed wanted for murder, to start the extradition process to have him here," he noted.
Five other men, including Bisram's bodyguard, have been formally charged with the murder. Bisram, police have alleged, procured and commanded Orlando Dickie, Radesh Motie, Diodath Datt, Harri Paul Parsram, and Niran Yacoob to murder Narinedatt between October 31 and November 1, 2016, at Number 70 Village, Berbice.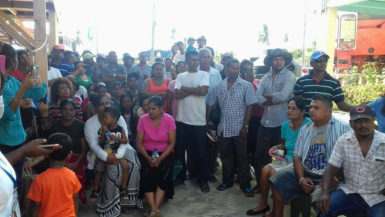 Narinedatt was last seen alive at a party in Number 70 Village that was hosted by Bisram. It has been alleged that Bisram made sexual advances at the party towards Narinedatt but was rejected, which prompted him to order his associates to kill the carpenter.
It is believed that the defendants, who were armed with several objects, dealt Narinedatt several lashes about his body until he fell unconscious. His body was then placed in the trunk of a car, driven to the Number 70 Village road and dumped.
Bisram's mother, Sharmila Inderjali, and another woman, Maryanna Lionel, have also been jointly charged with corruptly offering $4 million to a police officer to forego charges against Motie, Datt, Parsram and Yacoob, who were in custody for the murder, and Bisram.
Ramjattan said that rogue cops give the entire Guyana Police Force a soiled image and his ministry will not take lightly allegations of corruption.
"You could have you one and two cops doing your mischief but not the whole thing collapse and then you got to bring in another institution, Major Crimes Unit (MCU) to clean up, then that police station is rotten, something is wrong", he said. The Georgetown-based MCU took over the probe after the victim's family lodged complaints.
"If those cops are found guilty of covering up and thwarting the course of justice because they made a deal with the devil they will be dismissed…One rotten cop spoils the image of the entire force. We will not tolerate it… and if wrongdoings are found those culpable will face the law," he stressed.
With villagers gathered at the home of the slain carpenter, and persons voicing their concern at the threats the dead man's family has been receiving,  Ramjattan  told the meeting that he is also aware of those allegations and has ordered an investigation to determine who the culprits are.
Since a community policing officer has been fingered in that act, the Public Security Minister warned that if proven that person would be dismissed and charged.
Narinedatt's uncle, Abdul Shafeek, who took the floor at one point during the meeting, alleged that an uncle of the businessman had offered a $50M bribe to halt the investigation and settle the matter
However, Shafeek insisted that the family will continue to fight for justice  and it bluntly refused the bribe. "No way! We ain't accepting that money. Fifty million going to bring my nephew life? We want justice… (we want) a neutral prosecutor and magistrate to deal with the matter," he said.
The family's request for special prosecution in the matter did not fall on deaf ears as Ramjattan assured that he will make the necessary arrangements to have a state counsel prosecute the matter.
Narinedatt's parents told of the continuing agony they endure daily with his mother informing that she is still coming to terms with the death of her only child.
The mother lamented that so distressed was she over her son's death that upon entering his empty room she still talks to him and feels sometimes as if "she is losing her mind".
"If he been do something wrong them should a been lock him up, instead of murdering him," the woman wept.
Standing at the centre of the crowd, at her home, the woman vowed that she will ensure that justice is served, stating that no amount of monies will bring back her son and those guilty of murdering him should face the full brunt of the law.
Around the Web