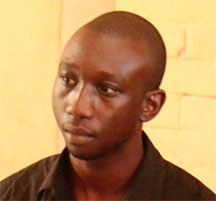 Orin Arthur and Uree Varswyk, who are jointly charged with murdering security guard Wilfred Stewart during a raid at the Sterling Products Limited (SPL) offices at Providence in 2014, were yesterday committed to stand trial for the crime.
The charge against Arthur and Varswyk stated that they murdered Stewart on December 8, 2014, at Providence.
Another man, Rayon Paddy, was also charged with the crime but perished during the March 3 Camp Street fire, which claimed the lives of 17 inmates.
Stewart, of Graham's Hall, was on duty when a gang stormed the SPL compound. After fatally shooting Stewart and wounding Mario Gohill, an Indian national working as a chemist at SPL, the invading bandits made their way to the accounts department at the SPL Providence complex, however, they were met with a locked safe and decided to abort the robbery and flee the compound.
At the conclusion of the preliminary inquiry into the charge against the men yesterday, Magistrate Fabayo Azore overruled the no case submission that was previously made by attorney Dexter Todd on behalf of both defendants.
She then stated that a prima facie case had been established and asked the defendants if they wished to say anything.
While Arthur opted to remain silent, Varswyk stated that he was being framed by the police.
Neither defendant chose to call a witness and they both subsequently heard that a sufficient case was made out against them and that they were committed to stand trial at the next practicable sitting of the Demerara Assizes.
Both defendants will remain on remand until that time.
Around the Web