Two police constables who allegedly provided security to businessman Marcus Brian Bisram—said to be the mastermind in the murder of carpenter, Faiyaz Narinedatt—are currently under close arrest.
Stabroek News was reliably informed that the two constables were placed under close arrest after it was alleged that they provided private security for Bisram at his home while they were members of the Guyana Police Force.
Additional information also revealed that some senior officers may have known about the arrangement, but tolerated it despite being aware that it is not authorized by the Guyana Police Force.
The police last Wednesday issued a wanted bulletin for Bisram for questioning in connection to the murder of Narinedatt.
In a release, the police had said that Bisram whose last known addresses were given as Lot 115 Section 'A' Number 70 Village Corentyne, Berbice and the United States of America, was wanted for questioning in relation to the murder of Narinedatt which occurred on November 1, at Number 70 Village, Corentyne, Berbice.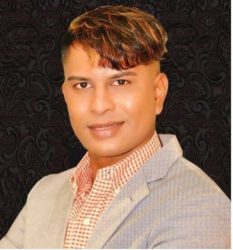 The following day he was charged in absentia with the murder and an Interpol 'Red Alert' notice has since been issued for him.
Five other men, including Bisram's bodyguard, have been formally charged with the murder. Bisram, police have alleged, procured and commanded Orlando Dickie, Radesh Motie, Diodath Datt, Harri Paul Parsram, and Niran Yacoob to murder Narinedatt between October 31 and November 1, 2016, at Number 70 Village, Berbice.
Narinedatt was found lying lifeless on the Number 70 Village public road, Corentyne on November 1 with marks of violence about his body. Investigators were initially treating the matter as a hit and run death.
However, relatives of Narinedatt pleaded with the police to further investigate the incident as they believed he was murdered, based on information provided to them by eyewitnesses.
On the eve of his death, Narinedatt had attended a party in Number 70 Village, which was hosted by Bisram, an overseas-based businessman, who allegedly made sexual advances towards him. Narinedatt reportedly rejected him and it is alleged that the businessman subsequently ordered his associates to kill the carpenter.
It is believed that the suspects, who were armed with several objects, dealt Narinedatt lashes about his body until he fell unconscious.
His body was then placed in the trunk of a car, driven to the Number 70 Village road and dumped.
A post-mortem examination revealed that he died from a fractured skull but had also sustained a fractured spine and other injuries
Around the Web