The two drivers involved in the fatal Sherriff Street collision, which resulted in four-year-old Ambeka Providence losing her life in September, were yesterday charged separately with causing her death and each granted their release on $400,000 bail.
Dereck Bailey, 56, of Lot 14 Sisters Village, West Bank Demerara and Heeranand Boodhram, 21, of Lot 336 Sachi Bazaar, Prashad Nagar, were read the charges by Chief Magistrate Ann McLennan in Georgetown. It was alleged that on September 10, at Sheriff and Garnett streets, Bailey, who drove motor car PMM 1426, and Boodhram, who drove pickup truck GPP 3500, drove in a manner dangerous to the public, thereby causing the death of Providence.
Bailey, who is self-employed, pleaded not guilty to the charge as did Boodhram, a store owner, who was represented by attorney Glenn Hanoman.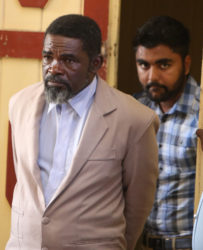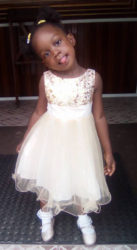 Hanoman told the court that Boodhram, who is married and has a baby, was given station bail by the police and has been cooperating with the officers since the accident. The lawyer told the court that his client is not a flight risk and pointed that he was in Mahdia at the time tending to his business when he was contacted by the police to travel to town to face the charge. Hanoman said that his client travelled to be in court for the matter. Hanoman asked that his client be placed on bail until the outcome of the trial.
Police Prosecutor Neville Jeffers objected to bail for the defendants. Jeffers told the court that based on the seriousness of the offence and the fact that a life was lost, the men should be remanded to prison. The prosecutor hinted that the only reason the men were placed on station bail was because there was an ongoing investigation.
Jeffers said that on the day in question, at 10.20pm, Bailey was parked in the parking lot of Royal Castle outlet on Sheriff Street, while Boodhram, who was in his pickup, was proceeding north and approaching Garnett Street. The prosecutor said that the traffic light was showing green when Bailey drove out of the parking lot, heading east to west on the road, as Boodhram was crossing the junction. Jeffers said that the men collided at the intersection and as a result of the accident, Providence, who was sitting in Bailey's car, died.
Chief Magistrate McLennan placed the men on $400,000 bail each and adjourned their matters until December 20, when they will be called again in court 2.
The Chambers of the Director of Public Prosecutions (DPP) had related to Stabroek News that it had advised the police to charge both drivers for causing the death of the girl. Traffic Chief Dion Moore had also said the driver of the pick-up truck will have an additional charge of driving under the influence laid against him but he only face the causing death by dangerous driving charge yesterday.
Around the Web