Three days after he was struck down on a pedestrian crossing in front of the Wellington Park Primary School, a seven-year-old boy succumbed to his injuries on Monday evening.
Dead is Dawain Prince, of Lot 12 Kiltairn Village, Corentyne, Berbice, who had sustained severe injuries to his head and other parts of his body. He had been rushed to the Port Mourant hospital in an unconscious state following the accident.
He was transferred to the Georgetown Public Hospital (GPH) the same day after his condition worsened. He died at the GPH around 8pm on Monday while admitted as a patient in the Intensive Care Unit.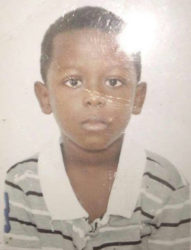 Mohamed Haniff, the driver of the hire car that hit Prince, is presently in police custody.
Stabroek News was told that Prince had just exited a school bus and was making his way across the road using the pedestrian crossing when he was stuck down by the car, which was reported to have been speeding.
As a result of the impact, Prince was pitched several feet away. He was picked up by public-spirited persons and taken to the hopsital. Prince's mother, Porinna Prince, said she was at home carrying out her regular morning chores when she received a call from a relative informing her of the accident. She said she immediately left for the scene, but before she she arrived there her son was already transported to the hospital.
"I went straight to the hospital and when I reach there the doctor told me that his condition is very critical and they have to transfer him to Georgetown," she said.
The woman explained that her son never regained consciousness.
Prince was the eldest of three children.
Around the Web