President of the Essequibo Chamber of Commerce Deleep Singh is relieved that the ramp on the Supenaam Stelling in Essequibo, which was damaged when the MV Sabanto crashed into it in July, has finally been repaired.
Singh told Stabroek News that he learned that the work was completed about three weeks ago. It commenced sometime in late September.
He said too that the business community and the farmers are very happy since if the ramp was left in the previous state, it would have hampered their economic activities, especially during the Christmas season.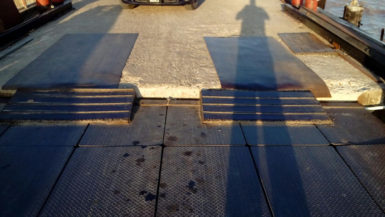 Singh had previously called for the damaged ramp at the Supenaam Stelling to be fixed urgently since it had resulted in undue delays and a downturn in trade.
"The long delay in bringing back supplies to the region puts an additional cost on our products and consumers are feeling the effects," Singh had said.
"Region 2 is an agro-based region and farmers have to take their produce to Georgetown and they suffer in the long run… The economics of time is involved, additional labour is also involved."
Singh commended the Ministry of Public Infrastruc-ture for its "quick response" and added that the Chamber is looking forward to similar co-operation in the future.
According to passengers, around 7.30 pm on July 7, the MV Sabanto was about to moor when it rushed into the stelling at a fast rate and caused damage to the ramp. As a result, the MV Sabanto and MV Kanawan were only accommodating light vehicles, while the MV Makouria and MV Malali were facilitating the crossing of the trucks.
Although it helped, there was still a large volume of vehicles waiting at both stellings and the truck drivers had complained that the ferry service was causing a lot of frustration. It also took them up to four days before they returned but with the Sabanto and the Kanawan, they would be able to return by the following day.
Around the Web