Devindra Ruplall was yesterday cleared of his drinking partner's murder after a jury found him not guilty of committing the capital offence as well as the lesser count of manslaughter.
Ruplall was on trial for the capital charge, which stated that on January 16, 2014, at Dochfour Village, East Coast Demerara, he murdered Suresh Goberdan, called 'Bud.'
After deliberating for about two hours, the jury returned its unanimous not-guilty verdicts for murder and manslaughter, upon which they were also directions by Justice Jo-Ann Barlow.
After the verdicts were read, Justice Barlow told Ruplall that he was free to go, but not before cautioning him to ensure that wisdom prevails in his consumption of alcohol.
The judge pointed out, that most of what led to the events of the night in question stemmed from them drinking.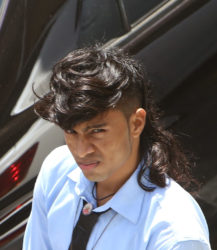 The visibly relieved Ruplall, after being unshackled, walked into the embrace of his many anxious relatives, who were present for the verdict.
Some of Goberdan's relatives, however, who also turned out in their numbers, were reduced to tears after hearing the verdicts.
It was the state's case that on the day in question, sometime before midnight, Ruplall and Goberdan had just left a rum shop, where they were drinking, and were heading to another, when the former accused began beating the deceased with a piece of iron over a gambling argument.
According to Prosecutor Siand Dhurjon, the men, in the company of another, Khemraj Persaud, had all left one rum shop and were riding on bicycles to another one, when Ruplall started arguing with Goberdan about winning his, [Ruplall's] money.
Dhurjon had said, that Ruplall, who was towing the deceased, suddenly dismounted the cycle and started cursing, telling the deceased that he would kill him.
The prosecutor had said that neither Goberdan nor Persaud took the accused seriously and started to laugh at him. Dhurjon said it was at this point that Ruplall armed himself with a piece of steel, about three feet long, with which he dealt Goberdan several lashes to his head, causing him to fall off the cycle.
State Counsel had related that Ruplall then dragged the deceased to Sea Dam, where he continued beating him to the face and about his body, before going into his pocket and taking his cellphone and money.
Meanwhile, opting to lead his defence in unsworn testimony from the prisoners' dock, the former accused had denied being at the scene or having anything to do with Goberdan's death.
Professing his innocence, Ruplall had said, "I had no reason to hurt Suresh. I had no problem with Suresh."
He had told the court, that on the day in question, he and Goberdan, in the company of Persaud, were on their way to a rum shop when Persaud and Goberdan got into an argument.
He said that after the men began arguing, he tried to stop them, but was unsuccessful, and as a result he rode away and left them.
Pathologist Dr. Nehaul Singh, had testified that Goberdan died as a result of haemorrhage and shock, due to multiple blunt trauma to the face.
The state's case was presented by Dhurjon, in association with Prosecutor Shawnette Austin.
Ruplall, meanwhile, was represented by attorney Sandil Kissoon.
The trial was heard at the High Court in Georgetown.
Around the Web