While promising a speedy trial, Chief Magistrate Ann McLennan on Monday once again refused to grant bail to the two women charged with offering a bribe to a policeman investigating the murder of Number 70 Village carpenter Faiyaz Narinedatt.
Sharmila Inderjali, 45, and Maryanna Lionel, 25, are jointly charged with corruptly offering $4 million to police officer Kamal Pitama, on November 19, at Eve Leary, to forego charges against Radesh Motie, Diodath Datt, Harri Paul Parsram, Niran Yacoob, who were in custody for the murder, as well as then suspect Marcus Brian Bisram, who is Inderjali's son.
Attorney Stanley Moore, who represents the two women, on Monday renewed a bail application, while saying the accused were entitled to their release. He said the law has made provision for the women to be granted bail until their trial.
Police Prosecutor Neville Jeffers, however, maintained his objection to bail, while noting that the women have bribed officers to sway the outcome of police investigations in a murder case. The prosecutor told the court that he is ready for the commencement of the trial and that a total of nine witnesses would be testifying in the matter.
After listening to submissions, the Chief Magistrate said she would continue to deny Inderjali and Lionel bail. She said although there are provisions for the granting of bail to the women, the court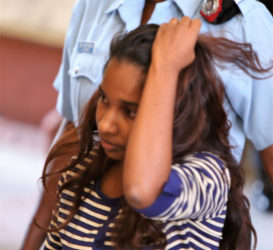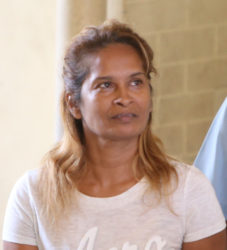 felt that they could be flight risks and could interfere with witnesses. Chief Magistrate McLennan highlighted that in this case it was alleged that the women interfered in the murder case and they might do so again. She assured that the women they would be given a speedy trial but informed them that bail will have to be denied.
After the ruling, the Chief Magistrate adjourned the matter until December 14, when it will be called again for fixture.
Bisram, police have alleged, procured and commanded Orlando Dickie, Motie, Datt, Parsram, and Yacoob to murder Narinedatt between October 31 and November 1, 2016, at Number 70 Village, Berbice. Bisram, who is wanted for the murder, has been charged in his absence alongside the five men.
Narinedatt was last seen alive at a party in Number 70 Village that was hosted by Bisram. It has been alleged that Bisram made sexual advances towards Narinedatt but was rejected, which prompted him to order his associates to kill the carpenter.
It is believed that the defendants, who were armed with several objects, dealt Narinedatt several lashes about his body until he fell unconscious. His body was then placed in the trunk of a car, driven to the Number 70 Village road and dumped.
Around the Web