Trinidad-based Republic Bank Ltd on Monday inaugurated its first trade mission in Guyana in hopes of developing new corporate relationships and opening markets across the region.
Speaking at the opening for the two-day mission at the Marriott Hotel, Executive Director of the Bank Roopnarine Oumade Singh stated that its goal is to facilitate a meeting for the bank's corporate and commercial customers across all jurisdictions to establish beneficial relationships, foster multilateral trade, open up new markets and to create additional revenue generating avenues.
Referencing the full conference room at the hotel, which saw delegates from Guyana, Suriname, Trinidad and Tobago and Barbados, Singh said that when the bank was planning the event, it had not anticipated that the turnout would have been so grand. "I am very pleased with the outcome and am very confident that a lot of business is going to be generated from the interactions that will continue for the couple days and for months and years as we go forward in building our business," Singh said.
He pointed out that the vision of the bank is to build successful communities to put its customers in touch with each other to form stable relationships, which will effectively contribute to a sustainable economic growth and development across the region. "We want to bring different business communities closer together to provide an insight and to improve stronger networking ties to increase trade… to seek and create opportunities and build sustainable economies," he said, while adding that the bank will be on standby and ready to provide credit and financing.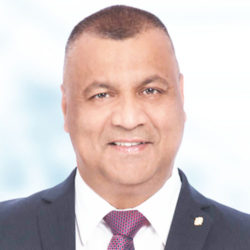 Speaking at the event, Minister of Business Dominic Gaskin said Guyana is ready for business and supports an economic model that sees private sector investment as the key driver of sustainable growth. He said that sustainable growth, by its nature, is a long term goal and so regardless of the situation or conditions, there must be a long term partnership between the public and private sector to create an economy that does not only affect the people of Guyana but also the wider regions. "…And so the theme of these talks is pertinent and this particular gathering is an appropriate forum to explore the building of relationships that can match local economic opportunities with knowledge," he said.
Gaskin pointed out that the trade mission is timely since it is occurring when there is "heightened interest" in the country's economy from many different quarters. "We welcome the interest, we welcome the attention and we are pleased to see initiatives being taken to foster dialogue between stakeholders," he added.
He explained that he is particularly pleased that the discussions are being dealt with by a key player in the financial sector, since financing plays a very important role in business development and "our bankers need to be fully on board when we contemplate business relationships." Gaskin pointed out that the government is aware of the challenges in raising capital and the high cost and stringent requirements that were present with the former banking system. He added that those coupled with an underdeveloped capital market does not provide a full range of financing options for a well-diversified economy to take shape.
"Guyana is going places and investors are coming to Guyana to explore opportunities and while our government may not have inherited a well-oiled machine for handling business and investors, we do understand how important it is to create the right environment for businesses to do what they do best," he said, while stating that his ministry has made it its top priority to make Guyana one of the easiest places to do business. He added that they have developed an action plan, which will be rolled out within the next few years.
He explained that the ease of doing business relies on the collaboration of a number of agencies to amend and create new legislation to change and improve the way certain things are done. "We understand there are other factors which can limit economic growth and development," he added.
He noted that over the next few decades, with the right investment, Guyana can be transformed into a thriving regional economic hub. "The right investment will come once there is sufficient confidence among partners and once the likely returns are attractive," Gaskin highlighted.
He said that the government has chosen to prioritize development in certain sectors, such as infrastructure, but it is equally important to balance all of the sectors to show an economy that reflect the needs of the people and the priorities of the nation.
Additionally, Gaskin pointed out that the government will be seriously promoting the value-added sectors of the economy and encouraging investors to explore agriculture, tourism, forestry and mining. "We have not fully exploited the areas and we need to do so now and we have a responsibility to implement policies to increase jobs," he said, while adding that value-added sectors will increase opportunities.
Gaskin also said that there is a need for energy infrastructure. Several delegates also made presentations about the state of doing business in their respective countries.
Around the Web