The Guyana Police Force yesterday officially opened the doors to the Seelall Persaud Fitness Centre with the objective of improving the health and well-being of its members.
The centre which was constructed by Navin and Sons Construction at a cost of over $37M was officially declared opened following a simple ceremony held in the compound of the Felix Austin Police College. Among those present were Minister of Public Security, Khemraj Ramjattan, Commissioner of Police, Seelall Persaud, Divisional Commanders and other senior members of the Guyana Police Force.
Ramjattan during his feature address urged the members of the force to make full use of the facility. The Minister in partnership with the Chinese Embassy also handed over a quantity of sports equipment including cricket gear which will be primarily used by the Community Policing Groups and other groups across the country.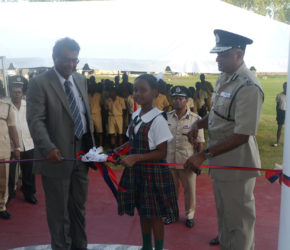 As it relates to other aspects of duties, in terms of testing tints on cars and fighting the issue of noise nuisance, he also handed over eighteen tint meters and fifteen decibel meters on behalf of the Chinese Ambassador.
The management of the Seelall Persaud Fitness Centre will come under the Force Training Officer, Assistant Commissioner, Paul Williams.
It is open to retired and serving members of the force from 5 am to 10 pm daily at no cost with two trainers available.
A contract for the project was signed in 2014 and the construction of the building commenced and was completed last year. A sum of $6.2M was allocated to equip the fully air-conditioned fitness centre with the necessary equipment.
The Commissioner who was lauded for his contributions towards the Guyana Police Force told the gathering that in 2014, the force management team having considered that the morale of the force was extremely low decided on a range of initiatives to rebuild it and the construction of the fitness centre was one element of the plan.
He said that the force has also introduced an annual fitness assessment which aims to bring awareness of the value of fitness. The Commissioner said some of the welfare initiatives also target families.
Persaud said some of the family-related initiatives include group health insurance, an increase in bursary awards and the fallen heroes foundations, where children of members of the force who were killed in the line of duty have their welfare and education needs taken care of.
Around the Web