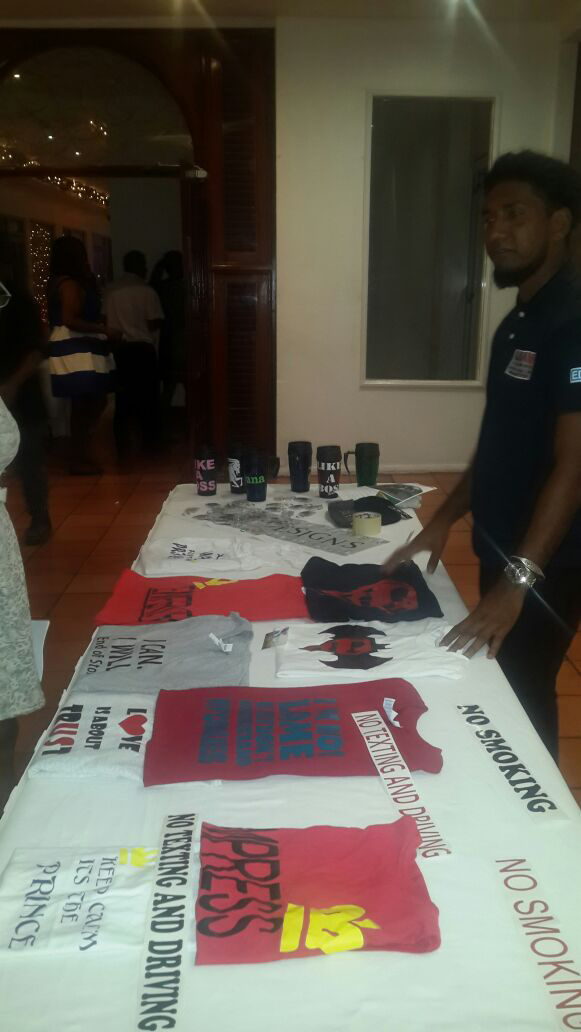 For USAID, November 28th marked the beginning of one five-year youth initiative aimed at reducing the involvement of Guyanese youth in crime and violence and the closing of another.
Monday morning saw the launch of the Youth Empowerment Services (YES) project, and that very evening, the closing ceremony for the Skills and Knowledge for Youth Empowerment (SKYE) project was held.
SKYE worked in regions 3, 4, 5, 6 and 10, where the majority of Guyanese youths are located. Some work was also done in region 9, where teachers were equipped to train children of school leaving age to be work-ready.
According to the statistics provided, 2,215 Guyanese youth have completed workforce development training as a result of the SKYE project. Of this number, more than 1,018 are currently linked to full-time employment, with 96.5% of employers reporting their satisfaction with the work of the employees.
Providing an overview of the Workforce Develop-ment and Private Sector component of the project, Employment Specialist Rawle Dundas stated that over 400 companies across the region have employed SKYE youths in areas of aviation, mining, accounting and law, and by businesses such as Qualfon, Teleperformance, GuySuCo, GWI, BOSAI, Giftland and the Guyana Police Force.
More than 300 SKYE recipients received entrepreneurship training and 169 went on to secure grants and start their own micro businesses.
Entrepreneurship Manager Karen Raphael, speaking on Youth Self Employment, reported that of the 169 new startups, poultry rearing was the most popular business venture among the project's participants, presumably because of its vast turnover and high demand. This was followed by food and grocery shops, retailing businesses, barber and beauty shops and then tech businesses such as internet cafes and photocopying shops.
Magda Wills, who served as the Chief of Party for the SKYE project, reported that the number of SKYE recipients who applied for grants to start their own businesses exceeded the number they had anticipated. They were, however, able to acquire $22.2 million through the Ministry of Communities to access business startup grants.
Perhaps one of the most noteworthy outcomes of the SKYE project, was its impact on the juvenile justice system. SKYE worked closely with the New Opportunity Corps, as well as with the Chief Magistrate and the Ministry of Social Protection to ensure that youths received alternative sentences for minor offences. The project also took on youth pardoned by President David Granger, who had been incarcerated for committing minor offences.
The number of youth who received alternative justice options over the five-year period was 131. This fell below the target of 200.
Juvenile Justice and Gender Specialist Dale Erskine related that over 60 youths who had brushes with the law graduated from the SKYE project, with 56 gaining employment, five being self-employed, six being unemployed, one currently pursuing a degree in Engineering at the University of Guyana and ten being committed to prison.
Success story
Among the successes of the project was Aleio Primo. "It was about 18 months ago that a coach recruited me to join the USAID's SKYE programme. There weren't many opportunities available at that time and like many other youths like myself, I was feeling frustrated. Not knowing what to do next, not knowing how I could rise up and achieve something bigger and better," Primo said at the launch of the YES project on Monday.
The Sophia resident noted that there is usually a negative connotation associated with his community, but stated that initiatives such as the SKYE project provided youths with the opportunity to overcome challenges and realise their dreams.
It was through the project's entrepreneurial initiatives that he learnt how to manage his own business. Primo is now his own boss, having acquired his own business- the Cyborg Internet Café and Call Centre and Video Game Arcade.
"I also provide assistance with homework and school based assignments and some cellphone related services. My friends say that I run a multiservice establishment because every chance I get, I try to expand. I'm even thinking about going into agriculture because I like challenges. This Sophia boy hasn't done too badly for himself," Primo said lightheartedly.
Primo attributed his success to the support he received from his coach. "My eyes were opened to the responsibilities of an entrepreneur and how to consider important things like customer service and proper promotion of a business. I became excited about owning my own business. Through this all, at every step, my coach showed faith in me and I realized that I had to show him that I won't let him down and to make good use of this opportunity. And I tried to honour that pledge," he said.
The youth further stated that the influence of the SKYE project has led him to take more of a leadership role within his community by attempting to influence young people in whatever positive way he can. He showed concern in particular for the issue of juvenile delinquency, as he stated the dropout rate in Sophia is very high. Primo made a call for relevant authorities to continue investing in vulnerable communities like Sophia, where youth are in need of guidance.
"I try in my own way to also make a difference in my community by encouraging youths to stay in school because the dropout rate is high in my community, which in most cases, leads to juvenile delinquency. I would like to see the opposite of that become a norm in my community. I really would like to see more young people have the opportunities that I have, I would like to see all the possibilities that exist for their future, to dream bigger and to take initiative to improve their lives," he said.
Aubrey Norton, the Presidential Advisor on Youth Empowerment, ex-pressed his gratitude at the role the USAID played through the SKYE project as it pointed Guyana in the direction it needs to go for youth development and building a corps of young people that will be contributors to the society. "We do not see the youth of Guyana as a problem, we see the youth of Guyana as a resource to be developed," he said.
President of the Georgetown Chamber of Commerce and Industry, Vishnu Doerga also congratulated companies that made an investment in the youths. "The only place earning comes before learning is in the dictionary. That is one of the things coming out of the SKYE project. With the right amount of education, progress is possible," he said.
The way forward
The SKYE project has been closed but a new project, Specialists in Sustained Youth Develop-ment and Research Inc (SSYDR), has been born.
"SSYDR is a local not for profit that sort of birthed out of the SKYE project. So the majority of the team on SSYDR are persons who would have worked on the USAID's SKYE project and so the focus of SSYDR is to continue youth work," Wills, now the Executive Director of SSYDR stated.
SSYDR's strategy will focus on detention prevention, reintegrating prisoners, juveniles and deportees into society in order to reduce rates of recidivism and create safer communities, preparing youth for the workforce, creating opportunities for youth to become business owners, providing second opportunities, developing the capacity of communities through leadership initiatives and assistance with life planning.
"The focus is using the very same curriculum, methodologies, bringing on more that can be used to work with youths to ensure that at the ending of the day, youths are not only transformed, they're transforming their communities and in transforming their communities, of course they'll be transforming the nation," Wills said.
SSDYR was formed in July of this year, but operations began in October, with funding provided by the Education Develop-ment Centre.
Around the Web