Prime Minister of Barbados Freundel Stuart was awarded the Order of Roraima as a reward for standing in support of Guyana in the ongoing border controversy with Venezuela.
Speaking during a special taping of the Public Interest, Granger said that Stuart has been a leader in speaking out against the controversy that Venezuela created last year when it laid claim to a large section of Guyana's maritime territory via Presidential Decree on May 26, 2015.
"When it came to Caribbean Heads of Government meeting in Bridgetown, Stuart was forthright, telling the Venezuelan Vice President that the decree had to be withdrawn. The award was a reward for that stand he took on behalf of Caricom. We are proud of him and what he did for Guyana and Caricom," Granger explained.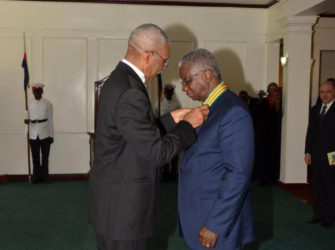 At the 2015 Caricom Heads of Government meeting, Stuart had declared that that the Caribbean Community stood in solidarity with Guyana in its bitter row with Venezuela over the renewed claim to the country's territory.
Less than a year later, Stuart was conferred with the award, which is Guyana's second highest honour, for what was then said to be his support for the rights of Small Island and Low Coastal Developing States, his advocacy for Caricom's demand for reparations for the citizens of the Caribbean region and his contribution to the reduction of the impact of climate change in the region.
Granger, in his remarks at the time of conferring the award, had said that the Prime Minister distinguished himself as "a doughty defender of the territorial integrity of Guyana and Belize and the maritime space of all Caribbean states."
On the Public Interest, Granger explained that the award is highly symbolic and tells the people of the Caribbean that it is not necessary to depend on countries outside to honour our own.
Around the Web