Kester Harvey, a former Citizens Bank manager, appeared before a city court yesterday on a charge of fraudulently converting $3 million to his own use.
Harvey pleaded not guilty to the charge alleging that between October 1 and October 31 at Georgetown, he, being entrusted by Pat Isaacs with $3 million cash to deposit same in Citizens Bank account #218791074, fraudulently converted same to his own use and benefit.
The father of three, who resides at Lot 1664 Herstelling, East Bank Demerara, was represented by attorney Leslie Sobers.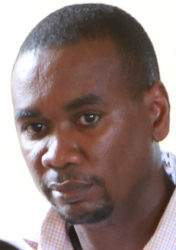 Sobers made a plea on the defendant's behalf for bail to be granted, while arguing that his client had handled hundreds of millions of dollars at Citizens Bank and IPED for eight years and six years, respectively, and had never been accused of wrongdoing.
Sobers called the allegation "spurious," while noting that from the charge read, the prosecution seemed uncertain of the timeframe the crime allegedly occurred.
Prosecutor Seon Blackman objected to bail being granted, given the amount of money involved and the gravity of the allegation. The prosecution, however, asked that were bail to be granted, that it be a substantial amount and that the accused be made to surrender his passport.
Sobers assured that his client would have no problem submitting his passport as he committed no offence and has no intentions of leaving the jurisdiction.
Bail was granted to Harvey in the sum of $250,000 by Magistrate Faith McGusty on the condition that he lodge his passport and report to the Brickdam Police Station weekly. The matter has been adjourned to December 22, when it would be heard by Chief Magistrate Ann McLennan.