The two Berbice constables who were remanded to prison on December 22, on the charge of having narcotics in their possession for the purpose of trafficking, once again were denied bail yesterday.
The constables, Bharat Shattarpaul, 28, of Lot 47 Princeton, Corriverton and Delroy Fraser, 24, of Lot 31-32 Belladrum Village, West Coast Berbice, who were attached to the Central Police Station, New Amsterdam, were both further remanded to prison by Magistrate Marisa Mittelholzer when they appeared at the Albion Magistrate's Court.
Although the matter had been re-assigned to the New Amsterdam Magistrate's Court by the Chief Magistrate, the duo appeared at Albion because of the non-sitting of the New Amsterdam Magistrate's Court.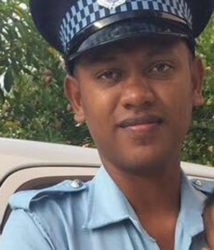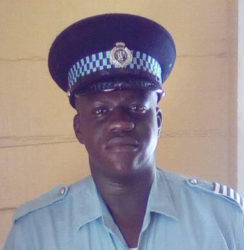 Shattarpaul was represented by Attorney-at-Law, Murseline Bacchus, while Fraser was represented by Attorney-at-Law, Chandra Sohan.
Bacchus made another application for bail in the hope of getting his client out for the New Year. However, he was unable to present any special reasons for the bail application to be granted, resulting in the Magistrate denying his request.
The duo's next court appearance is scheduled for January 16.
At their first appearance at the Whim Magistrate's Court, they had both pleaded not guilty to the charge of having in their possession a total of five kilogrammes of marijuana for the purpose of trafficking.
On December 19th, the constables were placed under arrest after the marijuana was allegedly discovered in the trunk of Shattarpaul's car which bears the licence plate number, HC 3179.
According to information gathered, both constables were returning from Georgetown in a police bus and along their journey, the men stopped, and Shattarpaul had a conversation with a man carrying a parcel, whom he subsequently offered a "drop". The man exited the vehicle somewhere in West Berbice without the parcel and the two lawmen then proceeded towards New Amsterdam.
Stabroek News was reliably informed that upon reaching New Amsterdam, Shattarpaul then ordered Fraser to drive his car to Vryman's Erven, New Amsterdam, where the parcel was allegedly removed from the police bus and placed in the trunk of the car. The constables then returned to the Central Police Station with the vehicles.
Upon receipt of information, the Division's Crime Chief and other ranks were instructed to conduct a search of the constable's car.
The two constables who were present at the time, claimed to not know where the keys for the car were, which resulted in a window being broken to gain entry to the car.
A search was carried out on the car and two heavily wrapped parcels containing the marijuana were discovered in the trunk. The constables both denied having any knowledge of the marijuana, which was weighed in their presence and amounted to five kilograms.
Around the Web