Minister of Public Health, Dr. George Norton on Thursday visited the family of Lonette Nicholson-Prince, 22, the hairdresser of Lot 11 Levi Dam, Angoy's Avenue, who was brutally stabbed some fifteen times by her estranged husband, in the compound of the National Psychiatric Hospital, New Amsterdam on Wednesday.
Norton expressed his sympathies to the family during his visit.
After his visit, in an interview with Stabroek News, he explained that a team from the Ministry's Mental Health Unit comprising of counsellors, a psychologist and social workers, on Thursday visited the National Psychiatric Hospital in order to counsel staff of the institution that might have witnessed the murder. Norton noted that shortly, a team from the Ministry of Social Protection will also visit the institution to assist the staff with getting some peace of mind, after the horrific incident.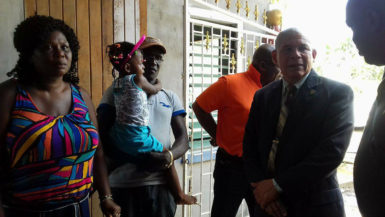 The Minister further stated that domestic violence is a complex problem. He stressed that it is something that has been prevalent in Guyana for years. "If we continue to do the same, not to place extra emphasis in terms of prevention, then we would end up getting the same results", the Minister said.
"I think it's a multiple sector approach to solving this problem. It is important that we treat both boys and girls at the level of children the same way. We've got to try to adopt certain measures that will bring about real changes in the value to life". He added that there is no doubt that measures that were in place in the past would now be deemed "unacceptable".
According to Norton, the fear of authority is no longer there. He called for parents to discipline their children for wrongdoings, so that they can grow up to be good individuals in society, stressing that the punishment does not have to be physical. "The fact that this person had a restricted order against him and that the situation was at the level of the court, tells us that really and truly there is hardly anyway one can actually be 100% safe. What is amazing however, is that when all is said and done and you turn up at the police station in the presence of a lawyer sends a message.  Well,… we can do anything and there is still hope at the end of it for us".
He called for citizens to be their brothers' keepers as well.
According to information gathered, the Ministry of Health will be assisting with Lonette's wake and funeral arrangements.
Around the Web