The Police in B Division are currently looking for two men for questioning in connection with the body of a forty-nine year old man that was discovered in a trench at Williamsburg, Corentyne, on Thursday, with several marks of violence.  Commander of B Division, Ian Amsterdam, speaking to Stabroek News said, "Based on information received, we are searching for two persons we need for questioning, who we have not yet found".
However, a police source has since told Stabroek News, that one person was in custody for some time yesterday, assisting with the whereabouts of the two men who are being sought for questioning.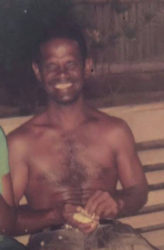 The body of Mohan Ball, 49, of Williamsburg Village, Corentyne, Berbice, was discovered by children who were playing in the vicinity of the trench. His sister Raywattie Fraser, 41, of Lot 74 Hampshire South, Corentyne, told Stabroek News, that she received a message from a young boy in the village, that her brother's body was in the trench. "The lil bai come and say, am Rocky and Andy kill Uncle Ball, and throw him in the trench. When abie go, the street was full with people. Me husband go across at the trench and me husband check he, and say he dead and come back", she stated. She explained that her brother had several black and blue marks about his back and other parts of his body. "The body get big, big black and blue mark a he whole back, and he belly and he neck back side", Fraser revealed. She pointed out that her brother was unable to swim.
The woman explained that villagers informed her after the discovery of the body, that her brother had been drinking with the two accused, after which, they allegedly started to beat him and "drag him on the road".
"He does drink, he did drinking with them, them fighting, them like beat people with cutlass and so", Fraser said. "That bai always a beat people", she lamented.
Fraser explained that when she received the message and was rushing to the scene, she saw one of the accused with wet clothes, riding away from where her brother's body was lying.
Ball was last seen Thursday morning leaving a friend's house in the village, where he usually hangs out.
Around the Web