(Trinidad Guardian) After 11 attempts at trying to capture the Calypso Monarch crown, Devon Seale yesterday snatched the coveted title and $1 million first prize from his 11 rivals.
Seale, who sang Spirit of Carnival and Respect God's Voice, dethroned defending champion Roderick "Chuck" Gordon at the Dimanche Gras show, Queen's Park Savannah, before a half-filled Grand Stand.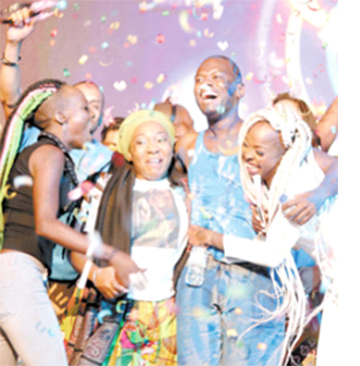 Placing second and taking home $500,000 in the 2016 Calypso Monarch finals was 22-year-old University of T&T student and newcomer to the stage Helon Francis who delivered Paradise and Real Bandits, which were well-received by spectators. Francis also copped the Young King title in the National Action Cultural Committee's competition last month.
Gordon, who was aiming for his hat-trick, had to settle for third position and $250,000 after rendering Fixing Time and It Eh Go Wuk.
A total of $2,420,000 in prize money will be distributed to the 12 finalists.
The theme for this year's show was entitled Unforgettable—The Soundtrack of your Life.
As Seale was bodily lifted into the air by jubilant and screaming supporters, friends and family members, he paid tribute to the late Lord Kitchener (Aldwyn Roberts), Carlyle "Jazzy" Pantin and Lord Pretender (Aldric Farrell) for his victory.
He said these three men gave him an opportunity to audition and sing.
"They always gave me advice and pushed me to the limit. I will forever be indebted to them," Seale said after being crowned.
In 1999, Seale made his debut in the Kalypso Revue tent managed by Lord Kitchener.
"I feel wonderful. I feel great. I have been toiling for years. Last year I put in a lot of work on stage but I disappointed my fans with my second song. I had to come back and take what I gave away. It just shows that hard work and persistence pay off. When it's your time, it's your time," a smiling Seale said.
Comments

BOGOTA,  (Thomson Reuters Foundation) – Indigenous women from Ecuador's Amazon rainforest have called on the country's president to end oil and mining projects on their ancestral lands, as the nation pushes to open up more of its rainforest to drillers.

LIMA, (Reuters) – Peru's new President Martin Vizcarra urged justice officials yesterday to act swiftly and join him in a fight against corruption "at any cost," two days after his predecessor was toppled by a sprawling graft scandal.
LONDON,  (Reuters) – Investigators from Britain's data watchdog yesterday searched the London offices of Cambridge Analytica, the data analytics firm at the centre of a storm over allegations it improperly harvested Facebook data to target U.S.
TREBES, France,  (Reuters) – A gunman killed three people in southwestern France yesterday as he held up a car, fired on police and seized hostages in a supermarket, screaming "Allahu Akbar" before security forces stormed the building and killed him, authorities said.

(Jamaica Gleaner) Jamaica has made a formal offer to purchase Venezuela's 49 per cent stake in the Petrojam oil refinery.