Belizean Prime Minister Dean Barrow yesterday called on CARICOM to wage a relentless campaign against what he described as the "possible banking Armageddon that we face" from bank de-risking.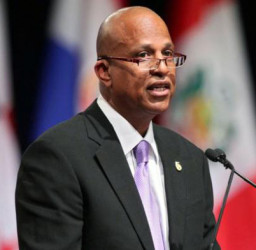 In recent years, international banks have begun shedding correspondent banking relationships with financial institutions in the region because of the perceived risk of money laundering and other financial crimes. The trend has alarmed CARICOM in recent months as it can affect an entire range of services including money transfers.
Barrow, the incoming CARICOM Chairman spent a large part of his address to the 27th intersessional meeting of Heads on the matter, according to the text released by the CARICOM Secretariat.
The Prime Minister proposed on behalf of Belize that banks across the region get together and as a bloc approach target banks in the US for pooled correspondent services.
"That way we should be able to leverage the critical mass needed to make our business volume worthwhile in terms of the risk/reward equation. The modalities and logistics will take some working out but clearly are not beyond our skills", Barrow stated.
He pointed out that under pressure from regulatory authorities in Europe and especially the US, banks in those jurisdictions had been closing their correspondent relationships with indigenous financial institutions in the region.
"This deprives our banks of the ability to keep US deposits, do wire transfers, facilitate credit card settlements for their local clients and our economy. The implications of this for our international trade, for our remittances, for our structures of production, consumption and investment, are so obvious as to require little further elaboration. It is therefore no hyperbole to say that, especially in an environment where the value of our imports and exports taken together equals or exceeds our GDP, any attenuation, not to say complete cutoff, respecting our trade and remittance flows, constitutes a clear, present and compendious danger", he declared.
He said that it was in this context that he went to Washington two weeks ago to take up this matter directly with the US Regulators.
Barrow, who recently won a new term in office, said that the Regulators all agreed that, without a solution, regional economies and societies would go "belly up"; and he said they conceded that this could be in no one's interest, including theirs. He said that the sticking point was their proclaimed inability to get their private sector banks to engage or
re-engage with ours. He said that all he got was an undertaking by the US Regulators to say to their banks that CARICOM jurisdictions have done and are doing everything they can to be fully compliant with anti-money laundering and countering the financing of terrorism legislation.
"But ultimately, the Regulators insisted, it was strictly a decision for those sovereign US banks to make. They would have to decide whether it was in their financial interest to deal with us, assume the full transactional weight of the resulting monitoring and reporting requirements, and run the risk of nevertheless paying huge fines if anything went wrong. Or, the US banks could simply continue to take the path of least resistance on the basis that our minuscule margins were not worth the trouble. It could not be supposed, of course, that any thought as to the catastrophe waiting to overtake our countries would enter into those banks' straightforward risk/reward calculus", Barrow said.
Barrow said that the limitations on action stated by the Regulators seemed to pose an "uncuttable Gordian knot". He pointed out however, that an article appeared in the Financial Times just after his Washington meetings on how developed country banking regulators were actively assisting Iranian banks to re-enter the global financial system following the lifting of economic sanctions.
"So the barriers on regulatory intervention are apparently far less constraining for a big country than for a small one, even when that big country has been dubbed a pariah and demonized these last few years", Barrow remarked.
He said that the U.S. authorities have been as good as their word and have now spoken to at least one potential correspondent bank that Belize has approached. The outcome of that intervention is still pending.
"Meantime our campaign, and I speak now of CARICOM, continues. And it cannot be other than relentless in the face of the possible correspondent banking Armageddon that we face", he warned.
On January 19 this year, former Barbadian Prime Minister Owen Arthur said that moves by international banks to cull their relationships with banks in the Caribbean represent the "potentially most devastating threat" to the region's development. Speaking at a forum in Jamaica, he warned that it could restrict Caribbean economies from access to global finance and impact negatively on remittances.
Around the Web