(Trinidad Guardian) The owner of the Claxton Bay bar where a teen bandit was beaten so badly by his "victims" that he never regained consciousess after he was hospitalised feels no joy he is dead.
However, Phoolmatie John has defended the patrons who came to her assistance when Curtis Pierre came for her after robbing them, saying she disagrees excessive force was used against him.
Responding to comments by Pierre's mother, Kndra Commissiong, that patrons went too far when they severely beat Pierre after he tried to attack her, an emotional John said yesterday that as a mother she felt sorry he died. However, she said the 16-year-old boy was wrong to have engaged in the criminal act of armed robbery in the first place.
"I have one son and one daughter. If my son should go and do things like that and they beat him and kill him, ent I have to bury him?" she asked.
"You have no right to be there! If you was in school you would be alive today."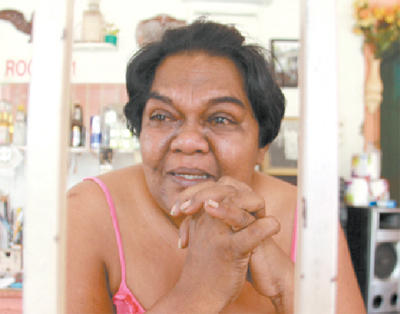 Wiping away her tears, John said her son Niben Beepat, 28, was just defending her and his infant son when Pierre came at her in their house at the back of the compound, after leaving his accomplice in the club at the front when he realised there were other people on the property.
Suspecting that the police may now possibly seek to charge those involved in the beating connected with Pierre's death, John said, "I don't think they should charge anybody because the man come in meh house. It is not like they run in he mother house and beat him up or drag him out a car.
"This law could never be right. Let them lock up my son and see if I would take that so? I will never take that so because that is boldfacedness."
Recalling the incident last Thursday, John said she saw Pierre and another man walk into the bar.
"I say they come to buy, is when the man crack the gun then I realise was bandit. Well, my lil grandson was there, I just grab his hand and drag him inside."
She said she closed the gate by the bar counter and went through a door leading to her house. At that point, Beepat, who was asleep, woke up, she said.
"He (Pierre) come inside my house and kicking down meh door."
John confronted Pierre and they began to scramble. But her son Beepat was then joined by a dozen patrons who came to her aid. Pierre was beaten into a state of unconsciousness.
Pierre's accomplice, who had robbed Chinese national Lui Luo, who operated a gaming machine at the club, and other patrons of their cash and other valuables, ran when he realised what was happening and later escaped in a car.
And while John is not advocating for vigilante justice, John yesterday encouraged other citizens to stand up and fight back against the criminal element because the authorities seem unable to arrest the crime situation.
"More people have to stand up against criminals, crime too out of hand," she said.
She also called on the lawmakers to "bring back the hangman."
John, who survived a heart attack three years ago, said it was the first time she had been robbed, but noted that her Chinese tenant had been robbed several times.
Admitting she was stressed out and disturbed since the incident, John said she was now thinking about retiring and renting her business.
John's sentiment was also supported by other residents in the community, including some who were victims of the bandits.
Requesting anonymity, a resident, who has been living in the community for 22 years, said she was fed up with the crime situation.
"The bandits too out of hand and it getting worse everyday. When they come they come to rob and kill you."
Complaining that in the last five years crime had escalated in the area, another resident said people must stand up for their rights.
But a senior police officer is urging citizens not to take the law into their hands.
"The population's already under pressure with crimes being committed against them. We don't want any vigilante group operating in this country. We have a law enforcement agency to deal with that. We're asking people not to engage any criminals, especially if they are armed," the officer, who did not want to be named, said.
The officer said citizens would be putting themselves in further danger and advised citizens to call the police or take photographs of the suspect if they could, instead of engaging them. Referring to Pierre's incident, he said the beating caused the teen's death and the matter was now under inquiry.
Also contacted yesterday, retired senior superintendent Johnny Abraham said when he was in charge of Central Division he and his colleagues held meetings with residents encouraging them to organise neighbourhood watch groups instead of vigilante groups.
"We would tell them they must not take the law into their own hands. But people are desperate about what is going on in this country. They feel that is one way of fighting back."
He added, "Nothing wrong with subduing the suspect and handing him over to the police."
Commenting on Pierre's beating, he said, "I think excessive force was used, more than necessary. The man was unarmed and they had already subdued him."
Pierre died at the San Fernando General Hospital on Tuesday night. An autopsy revealed he died from blunt force trauma to the head.