(Trinidad Express) An appeal is being made by the police and the family of murdered nine year old Cyon Paul for the people who witnessed the gun play that resulted in the child's death last Friday, to come forward and not allow the case to go cold and unsolved.
Police have little information to arrest a suspect, as no one has offered investigators or the grieving family information on the killer.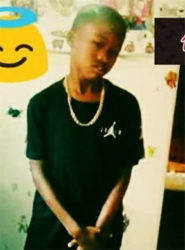 Police were told that the killing was witnessed was several people on Southern Main Road, La Romaine who were liming at a bar near where the shooting happened.
Not a single person has come forward to identify the shooter or shooters.
The street has several supermarkets, food vendors, fruit stalls and bars, and is a high traffic and pedestrian area with an active night life. One of Cyon's aunts said that she was at the crime scene minutes after he was shot, and she asked who was responsible but no one answered.
"Vendors, everyone by the bars, everyone came out to see what happened to him. But when I asking how this happened, nobody answering me. Nobody know who fired the shot that killed my nephew," she told the Express on Saturday.
Little Cyon's mother, Safiya Williams, has said she wanted the shooter to come to her and confess. His uncle, Simeon Morris, said that while police have been "circling the area", since the incident but it has not yielded an arrest for a suspect. Morris noted that other killings in the area went unsolved. He said however that the family wants justice for the nine year old, who was to enter Standard One of the La Romaine Roman Catholic Primary School next month. Little Cyon is expected to be given his final farewell tomorrow.
The funeral is expected to be held at Guide's Funeral Home in San Fernando, and the body to be cremated following the service. A relative said that several of Cyon's teachers and schoolmates have visited the home and nightly wake in remembrance of him.
Around the Web