LA PAZ/SANTIAGO,  (Reuters) – Bolivia responded to last week's murder of a government official by announcing a crackdown on mining cooperatives yesterday, saying it would return contracts signed between them and private companies to state control.
The beaten body of Deputy Interior Minister Rodolfo Illanes was found by the side of the road last week, hours after he had approached mining protesters to talk over their concerns.
Having seen their income hit by the global commodities slowdown, miners had been demanding increased rights to work with private companies, relaxed environmental restrictions and more subsidies. At least two were killed in clashes with police in the run-up to the murder. President Evo Morales has accused the right-wing opposition of encouraging the protests to foment discord, and his socialist government hit back Thursday with tighter restrictions for co-operatives. Five decrees were agreed on after an emergency cabinet meeting, Mining Minister Cesar Navarro said at a press conference.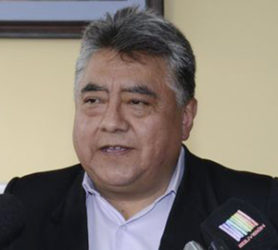 They include "reverting to state control those areas in which contracts have been signed between mining cooperatives and private companies," he said.
Bolivia's mining sector is dominated by 120,000 miners working in around 1,700 co-operatives, who have received tax concessions and other benefits from the government in recent years.
They have 31 contracts with private firms in force, according to the mining ministry.
Former deputy mining minister Hector Cordova told Reuters the ruling should not affect large companies, which have contracts with state miner Comibol.
He added, "Those smaller companies who joined with cooperatives to take advantage of tax breaks and other benefits will see their interests decrease."
A company called Manquiri is among those listed as having two contracts with co-operatives. It operates a silver mine and is a subsidiary of U.S. firm Coeur Mining, according to Coeur's website. Coeur could not immediately be reached for comment.
One of the largest foreign-owned mining companies in Bolivia is San Cristobal, which extracts silver, zinc and lead and is owned by Japan's Sumitomo. A spokeswoman for San Cristobal said it did not use co-operative contracts.
The Morales government nationalized Bolivia's natural gas industry soon after taking power in 2006 and is in arbitration with Glencore over the return of some assets, but has said San Cristobal would not be nationalized.
Other measures announced yesterday include a state audit of co-operative mining areas and the banning of the use of explosives at demonstrations.
Around the Web