(Trinidad Guardian) While trying to save her mother from an attack on Wednesday morning, 13-year-old Sydney Heeralal was chopped on both hands and received cuts to her left ear. The child received 19 stitches for her injuries but she survived the attack. Her mother, Terisha Heeralal, was not so fortunate.
Heeralal, 31, was hacked to death by her common-law husband at her Piparo home around 1 am on Wednesday. The couple had been in an on-and-off relationship for several years.
The incident took place at the two-storey wooden house Heeralal shared with Sydney, a Standard Five student of the Piparo Presbyterian School and the man. Heeralal also has a 15-year-old son who lives with his father.
The T&T Guardian visited the home of Heeralal's parents in Dindial Settlement, Piparo, yesterday where Sydney recounted how she tried to save her mother's life.
"I tried to stop him. He was chopping Mommy and he was not stopping," she said. "I told him to stop doing it… but he didn't and when she fall down he came and chopped me too," she said.
Cradling her injured left hand, Sydney continued: "I was screaming and I started to run away and when I looked back, he went back to where she fall down and was chopping her again."
Heeralal's family will have to await the results of an autopsy to find out how many times she was chopped. An emotional Sydney said the argument started over her mother's cellphone.
"She was checking her Facebook and he slapped the phone out of her hand and it landed downstairs. She went to pick up the pieces and they started to argue.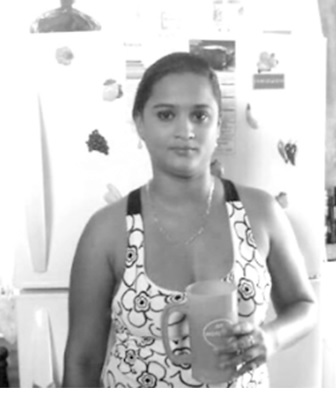 The couple, she said, argued for about half-an- hour before the man threw the phone's battery outside again.
"She went downstairs again for the battery and he went behind her… that is when I saw him take out the cutlass from his car and start chopping her with it," she recalled.
While the teen said the man and her mother often argued, she said she had never seen him in such a rage before.
"Even when they used to argue, he was always nice to me… that night he was saying 'Look your mother throw water on me' and he was laughing, cause she was just coming out of the bathroom."
After being chopped, Sydney ran a short distance to a neighbor's home where the police were contacted.
However, when the officers arrived, the man was nowhere to be found. His silver Nissan Almera was still parked beneath the house, leading police to believe he had fled on foot.
Inspector Persad, Sgt Hosein and Cpls Ramoutar and Mendoza of the Region Three Homicide Division visited the scene.
Cpl Mendoza is continuing investigations.
Around the Web