(Trinidad Guardian) Residents of New Village, Point Fortin, have been forced to scamper inside their homes for cover over the past six weeks, as swarms of locust have been devastating their community.
Thousands of the large insects again plagued the community yesterday, shredding trees down to their branches and leaving farmers with almost nothing to take to the market. The community, also known as Striker's Village, is also home to a Servol Life Centre.
Farmer Kelvin Harper told the T&T Guardian yesterday's attack was the worst and other residents reported being bitten by the locusts. Harper, who plants citrus, eggplant, cabbage and lettuce, said the attack had left him with nothing to sell. He said if not for his auto-mechanic skills he would starve.
"We have never experienced this before and they are coming rapidly, more and more everyday for the past six weeks. It is especially bad for my leafy vegetables, because sometimes when they come in the night by the morning you are left with nothing," Harper said.
Wayne Nathaniel said he called the media when residents complained that the Ministry of Agriculture failed to conduct eradication exercises in the community. He said locusts were targeting anything they could feed on, with some people saying even they were attacked.
The Ministry of Agriculture sprayed the area last month but residents said only a few died and the population has now increased. Over in Mora Village, large swarms have also been reported and because spraying occurred there it is believed the locusts fled to other areas.
Point Fortin mayor Clyde Paul said after learning of the infestation he contacted the Ministry of Agriculture's sub-office in Point Fortin, who assured him that they were dealing with the problem. He said the ministry sprayed Mora Village yesterday and was scheduled to visit New Village today. He assured it was not a public health issue as the insect did not cause disease but attacked foliage.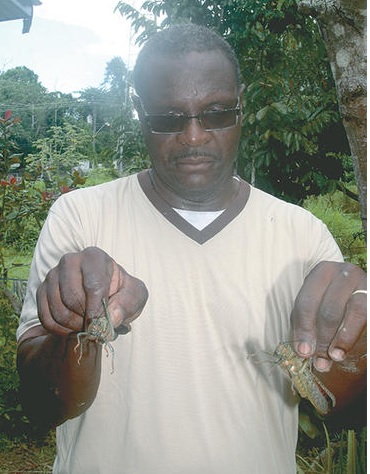 Locust invasions are becoming an annual occurrence in Trinidad, as there were reports of a small swarm attacking foliage in Moruga community some months ago. Locust sighitings are more common in Chatham, with eradication exercises being done in June, 2015, when the ministry equipped a backhoe with a Jatco spray to eradicate hundreds of them. There were also invasions there in 2010, 2013 and 2014.
The desert locust, which has been reported in the Caribbean since 1988, is a common sight but the species found yesterday resembled the red locust, with its red hind wing, and is usually found in sub-Saharan Africa. It is usually attracted to moist environments such as floodplains but are mostly nomadic during the dry season. While pesticides are used to eradicate locusts, some species are vulnerable to grasshopper bait, garlic spray and cilantro. Some farmers have also tried dusting their crops with all-purpose flour.
Around the Web