(Trinidad Guardian) The mother of teenager Shivanie Persad is urging parents to be more vigilant and careful about who they allow in their homes.
Rehana Singh was reunited with her 14-year-old daughter at the Rio Claro Police Station yesterday. Shivanie was found by police at a mall in Chaguanas on Tuesday in the company of a 25-year-old man.
The schoolgirl had been missing for the last six days after she failed to return to her Rio Claro home after school last Wednesday. She is a student of the Rio Claro East Secondary School.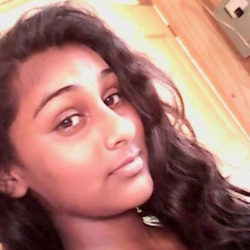 In an interview with the T&T Guardian outside the Rio Claro Police Station last night Singh sent out a warning to other parents, saying: "Dig a little deeper if you think something is wrong or your child is acting out."
Still reeling from grief after her husband Vishnu Persad was murdered on Saturday at their home at Mahabalsingh Trace, Navet Village, Rio Claro, Singh said: "You might be able to prevent something like this from happening. Look at the situation my family is in and learn a lesson. Be careful who you allow in your homes."
Singh said the teenager had changed her profile name on Facebook to match the surname of a 25-year-old man who was well known to the family. She said the man had approached both her and her husband sometime ago to ask for permission to date the child but they both refused.
The man remained in custody at the Rio Claro Police Station Tuesday night. Police said Persad's murder may be linked to the girl's disappearance.
Singh said her husband would be laid to rest tomorrow and Shivanie is scheduled to receive counselling after the funeral.
Around the Web