(Jamaica Gleaner) The Reverend Merrick 'Al' Miller has been fined J$1 million or 12 months in prison on his corruption conviction.
Miller has until September 20 to pay the fine.
The Reverend Herro Blair, who was among the persons packed inside the courtroom, wiped away tears when Wolfe-Reece said she would not impose a custodial sentence on Miller.
On July 22, Parish Judge Simone Wolfe-Reece, presiding in the Kingston and St Andrew Parish Court, found him guilty of attempting to pervert the course of justice, arising from the 2010 capture of then fugitive Christopher 'Dudus' Coke.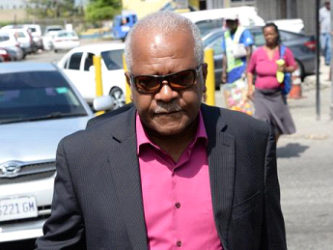 The verdict came more than six years after Coke was captured in a sport utility vehicle that was being driven by Miller along Mandela Highway in St Catherine in 2010, ending an islandwide manhunt for the drug kingpin.
Before the sentencing, Miller's attorney Jacqueline Samuels-Brown pleaded with judge Wolfe-Reece for leniency.
Samuels Brown also asked the judge not to send Miller to prison.
At the same time, she criticised retired commissioner of police Owen Ellington and former deputy commissioner Jevene Bent for not coming to court and giving evidence.
Samuels Brown conceded that Miller's action on the day Coke was captured in his vehicle along Mandela Highway in St Catherine was based on a "misapprehension" of his discussion with law enforcement authorities.
Miller was initially charged with harbouring a fugitive and attempting to pervert the course of justice.
The charge of harbouring a fugitive was dropped shortly after the trial began.
This is the second conviction for the popular pastor who is in charge of the Fellowship Tabernacle church in St Andrew.
In 2011 he was found guilty of negligence, after his licensed firearm went missing from his car.
Miller claimed he had stopped on Shortwood Road in St Andrew to pick plums for his daughter when the firearm disappeared.
He was fined J$80,000 or three months in prison.
Around the Web