(Trinidad Express) The Opposition, led by United National Congress (UNC) political leader Kamla Persad-Bissessar, will not support the abolition of jury trials.
At least not until widespread consultation has been completed.
Speaking at the UNC's national congress and presentation of candidates at the Couva South multipurpose hall on Saturday, Persad-Bissessar admitted that the former People's Partnership government had considered the issue of abolishing jury trials but it was shelved.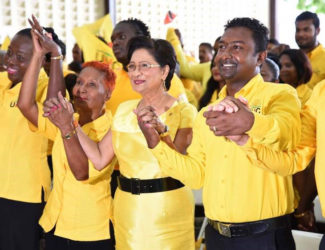 She said, "It was shelved because there was no consensus. There were views put forward that whilst you could try to intimidate a jury, the jury is made up of many people. But if you try to bribe and intimidate a judge in robe and there is no jury. I am not saying it will happen, but it is easier."
Persad-Bissessar said the potential for abuse would be greater without a jury.
She said the Opposition was of the view that when such a fundamental change in the criminal justice system was being considered there should be widespread consultation.
And in the case of the UNC's election petition appeal, Persad-Bissessar said she had information that the PNM was lobbying to get judges that will do their bidding.
"I hope that the Chief Justice is smarter than that and will allow justice to prevail," she said.
She said in such a case the most senior Court of Appeal judges should sit on that case.
"So I would say at this time unless we get widespread consultation on that issue of trial without a jury, in my point of view, and I believe the Opposition will support me, we will not support abolition of jury trials at this time," she said.
Chief Justice Ivor Archie, speaking at the ceremonial opening of the new law term on Friday, said jury trials have got to go since it has proven time and time again to be a "total disaster" and "systematic failure".
Persad-Bissessar has called on Prime Minister Dr Keith Rowley to fire Attorney General Faris Al-Rawi and former Housing Development Corporation managing director Noel Garcia over the Las Alturas towers fiasco.
Persad-Bissessar said, "You have Mr Faris Al-Rawi shouting and ranting about who was right and who was wrong and how it happened. He was involved, so was Noel Garcia. They were there at the time taking these decisions and blaming it on a clerical error, a typo. That does not change the substance of the enquiry report."
She said the report clearly stated that people were culpable.
As she presented the UNC's Local Government candidates, Persad-Bissessar appealed to those candidates who were not selected to join hands and move forward to victory.
Persad-Bissessar said too often members try to fight down each other instead of uniting.
"The problem we face from time to time is that we end up fighting down each other rather than holding hands and marching forward to victory," she said.
Persad-Bissessar said many people were hurt and disappointed because they were not selected as candidates. And she pleaded with them to put aside personal hurt for the greater good of the party.
"In my over 30 years in politics I have had to put aside personal disappointment and hurt for the better good of the party and country. Do not hate us for the choices we made, but work with us to take our great party to victory in the Local Government election," she said.
Around the Web