(Trinidad Guardian) -Police believe a father, his firstborn child and the father's employee were killed at Reid Lane, D'Abadie, on Tuesday night, because they failed to attend a funeral or show any support to grieving relatives of three people killed in the community two weeks ago.
According to police, the shooting deaths of Leon and Shivon Sobers and Joel Alexander were linked to the murders of Frank Joseph, his son Kevin Plaza and Plaza's best friend Ricardo Singh on November 5.
Police reports are that around 6.45 pm on Tuesday, a gunman on a bicycle rode up to the trio and two other men as they were cleaning and packing away tools after a day's work on the Sobers family home along Harper Circular, Reid Lane, D'Abadie, and opened fire. The men were taken to the Arima Health Facility by a neighbour where they died. Christopher Dottin and Njisanne Charles, who were also shot in the attack, were still hospitalised yesterday.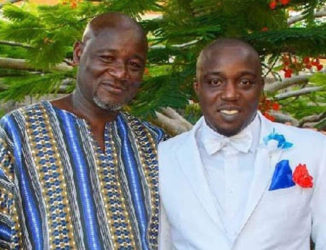 Police said yesterday that they were working on information that the Sobers were seen as  "disrespectful" for keeping their distance following the November 5 killing a few streets away from them. Police said the family also did not attend the funeral for any of the men and this act was frowned upon, resulting in a hit being put on the father and his son. Alexander was killed for being in the wrong place at the wrong time, police said.
Speaking with the T&T Guardian yesterday, relatives, who asked not to be identified, said they were disheartened not only to learn of the motive but that their relatives' last moments were being widely circulated in a video allegedly leaked on social media by a police officer.
"What I want to say is that unscrupulous police officer who leaked the video and put it on Facebook, he not sensitive at all and is putting the family's lives at risk," a relative said, as she mopped Sobers' blood from off the brown tiles in the family's living room.
Another relative said, "Right now we are just trying to hold the faith, this thing is so hard. We want justice, but we not sure that we would receive it because it have some officers who may work hard to get justice, then there are some who would not."
The relative added that seeing the video of the three men being killed solidified her belief that the country was becoming insensitive to gruesome images. She labelled those who have been sharing the video as "heartless."
Sobers, 56, a contractor with the Ministry of Works, was described by relatives as a lovable man who was always willing to help anyone.
The father of three was nicknamed "Big Bird" because of his build and his demeanour. His neighbours also regarded him as a respectful man always assisting the community. His son, 31, was recently married, relatives said, and was the father of two young children. The young husband, they said, was planning a Christmas celebration for the children in the area.
Speaking with the media at the Forensic Science Centre, St James, yesterday, Alexander's brother, Marcus, said his brother was the father of two children who lived in Cumuto with his family. He added that his brother was a driver with Sobers senior and the last time he spoke with his brother they were discussing renovating his Cumuto home so that he could rear animals.
2nd multiple killings
On November 5 around 3.20 pm, Frank Joseph, who lived in Morvant, Kevin Plaza and his friend Ricardo Singh, who both lived at Boy's Lane Extension, were attacked by two heavily armed men at John Lane, D'Abadie. The shooters came and escaped in a white Nissan Tiida which had no licence plate. The trio's deaths were linked to drugs, police said.
Around the Web