(Trinidad Guardian) Perhaps it was her heightened hearing as a result of being visually impaired, but Alicia Lalite could hear me approaching while standing in the doorway of the PhD Business Administration Office at the Department of Management Studies building, University of the West Indies (UWI), St Augustine.
Lalite, who faced many adversities—from being bullied at Carenage Girls' Government School as the "blind coolie girl" because of her dwindling eyesight, having certain individuals discourage her from pursuing her educational dreams, to facing discrimination in the job market because of her disability—is pursuing a PhD in business administration with a specialisation in human resource management.
She proudly said, "My thesis is called 'Investigation of attitudes and perceptions towards persons with disabilities within organisations in T&T and the US.'"
Lalite, who has retinitis pigmentosa (RP), a genetic, progressive disease, said she and her brother were the first to be diagnosed in Trinidad. But that never stopped her.
She said while the Blind Welfare Association specialised in handicraft and many felt that that was where visually-impaired people should be, Lalite felt it should a be a person's choice to do handicraft if he so wanted, but it should not be the only option if that person has the capabilities and qualifications to function in a "normal" environment. She felt they should not be denied other opportunities.
"When I got the opportunity to lecture, it was like a dream come true.
"After every session I feel so good like I was on an educational high and had accomplished something."
She said she was happy that her peers and colleagues at the university had accepted her and she in turn helped sensitise them to the perceptions and attitudes towards people with disabilities.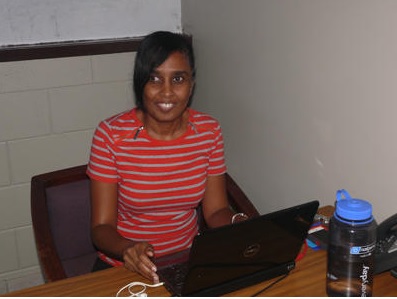 Lalite said the Management Studies Department staff were very supportive, her lecturers were open-minded towards assisting her and she was thankful for the assistance and grateful to the helpful Alma Jordan Library (AJL) staff and security guards.
On mobility, Lalite said once blind people were familiar with their surroundings, they were fine. Lalite commutes from Carenage via maxi taxi to City Gate unassisted, then to St Augustine, and with assistance from students and campus security guards she crosses the bustling bus route.
She said she encountered ignorance from some sighted people on how a blind person should navigate the streets.
She recounted while walking along the streets of Port-of-Spain, people would turn and tell her to feel the edge and drag her cane and go to the right side or the end of the pavement.
She said they did not know anything about mobility, the training to use a cane and they were adamant about it.
Lalite explained that sending a blind person to go to the edge of the pavement was dangerous, he can slip off, fall into traffic, a drain and the majority of light poles and concrete poles were on the edge of the pavement, risking collisions and injuries to the blind people.
She said while many students were helpful towards her, unfortunately some UWI students have not been exposed to assisting the disabled, exhibiting a kind of apathy, and had the attitude that it would take too much of their time to help a person with a disability.
ABOUT LALITE
Alicia Lalite studied at Munroe College, USA, where she graduated summa cum laude with an associate degree, then bachelor's, and finally master's in business administration
She worked at the Blind Welfare Association for ten years as a librarian, computer literacy teacher, an instructor in adaptive technology, and a trainer to people who interacted with the blind and disabled.
Lalite also did a one-month stint at Pavi (Persons Associated With Visual Impairment) until duty called at UWI and also took up an internship at the UN.
She has taught employees at Nalis (National Library and Information System Authority) the use of adaptive technology which catered for disabled people.
Lalite also taught former president and prime minister Arthur NR Robinson
Around the Web