Sadeeka Leona Odie, who was caught attempting to transport cocaine in achar onto a flight to the United States, was sentenced to four years imprisonment on Wednesday.
Odie, 41, of Lot 186 Thomas Street, Kitty, Georgetown, was found guilty by Providence magistrate Leron Daley, who also fined her $30,000.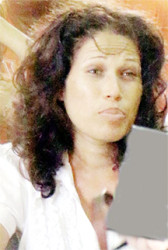 She was initially charged in February, 2014, with trafficking 9.27 kilogrammes of cocaine. Odie had pleaded not guilty.
Odie, who worked as a model, was a passenger of a Caribbean Airlines flight BW526, bound for the JFK Airport, New York, when she was busted at the Cheddi Jagan International Airport, Timehri (CJIA).
Odie, a single mother of five children ranging in ages from seven to 18 years old, had a US visa and had visited that country before. She allegedly made arrangements to take achar to the US for a fee of US$10,000, the court was told.
She was held after an alert Customs Anti-Narcotic Unit (CANU) rank acted on information and searched her luggage that was not yet aboard the plane and unearthed the suspicious package.
Comments

Bharrat Jagdeo The PPP/C is committed to constitutional reform, says Opposition Leader Bharrat Jagdeo.

Ray Lengend Ray Lengend who went on a fire-bombing spree of mosques throughout southeast Queens, this week pleaded guilty to the crimes against Muslims who the 45-year-old Guyanese man claimed in 2012 had been "trying to take over his life", according to the Times Ledger in Queens, New York.

BEIJING/SEOUL, (Reuters) – A small earthquake near North Korea's nuclear test site on Saturday was probably not manmade, the nuclear proliferation watchdog and a South Korean official said, easing fears Pyongyang had exploded another nuclear bomb just weeks after its last one.

Damaged electrical installations are seen after the area was hit by Hurricane Maria en Guayama, Puerto Rico September 20, 2017.

Colin Firth'Loving' premiere, 69th Cannes Film Festival, France – 16 May 2016 ROME, (Reuters) – British actor Colin Firth, who has often played the role of a quintessential Englishman in his many films, has become an Italian citizen, Italy's Interior Ministry said.