Sadeeka Leona Odie, who was caught attempting to transport cocaine in achar onto a flight to the United States, was sentenced to four years imprisonment on Wednesday.
Odie, 41, of Lot 186 Thomas Street, Kitty, Georgetown, was found guilty by Providence magistrate Leron Daley, who also fined her $30,000.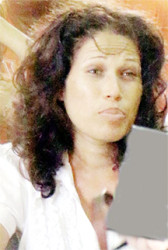 She was initially charged in February, 2014, with trafficking 9.27 kilogrammes of cocaine. Odie had pleaded not guilty.
Odie, who worked as a model, was a passenger of a Caribbean Airlines flight BW526, bound for the JFK Airport, New York, when she was busted at the Cheddi Jagan International Airport, Timehri (CJIA).
Odie, a single mother of five children ranging in ages from seven to 18 years old, had a US visa and had visited that country before. She allegedly made arrangements to take achar to the US for a fee of US$10,000, the court was told.
She was held after an alert Customs Anti-Narcotic Unit (CANU) rank acted on information and searched her luggage that was not yet aboard the plane and unearthed the suspicious package.
Comments
CJIAC wishes to advise departing passengers effective Sunday, February 18, 2018 at approximately 14:00 h that the Immigration and Security operations will be relocated to the former Greeters Hall to facilitate the ongoing airport expansion project.

In keeping with its commitment to release petroleum and other agreements, the government today released the one with Canadian miner, CGX.

(Trinidad Guardian) Trinidad and Tobago has an ISIS cell. The official confirmation came yesterday from Prime Minister Dr Keith Rowley, who was grilled by Opposition MPs on the recent threatened plot to disrupt Carnival 2018 and the causes.

City Hall is currently executing works at the Le Repentir Cemetery under a contract valued at over $100 million without any evidence of public tendering.

Whether Guyana becomes "immensely rich or just another Trump-hole" from oil revenues depends largely on its ability to attract specialty experience and competencies in industry and sectors here, says business website Bloomberg.