Sadeeka Leona Odie, who was caught attempting to transport cocaine in achar onto a flight to the United States, was sentenced to four years imprisonment on Wednesday.
Odie, 41, of Lot 186 Thomas Street, Kitty, Georgetown, was found guilty by Providence magistrate Leron Daley, who also fined her $30,000.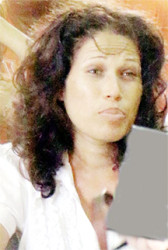 She was initially charged in February, 2014, with trafficking 9.27 kilogrammes of cocaine. Odie had pleaded not guilty.
Odie, who worked as a model, was a passenger of a Caribbean Airlines flight BW526, bound for the JFK Airport, New York, when she was busted at the Cheddi Jagan International Airport, Timehri (CJIA).
Odie, a single mother of five children ranging in ages from seven to 18 years old, had a US visa and had visited that country before. She allegedly made arrangements to take achar to the US for a fee of US$10,000, the court was told.
She was held after an alert Customs Anti-Narcotic Unit (CANU) rank acted on information and searched her luggage that was not yet aboard the plane and unearthed the suspicious package.
Comments

The leadership of the Alliance For Change (AFC) is to formally write A Partnership for National Unity (APNU) on a revision of the Cummingsburg Accord which birthed the coalition and saw it winning the 2015 general elections.

The Education Ministry is probing a complaint against a teacher of the Bishops' High School, who is accused of sexually grooming and molesting female students during the 10 years he has worked there.

The Special Purpose Unit (SPU), which was set up to spearhead the divestment and privatization of GuySuCo assets, yesterday moved one step closer to selecting an accounting firm to provide a valuation of assets belonging to the sugar company.

Four men were yesterday taken before a city magistrate on a charge that they stole over $2 million in cash and valuables during a violent robbery at the Stabroek Market.

While the police force remains silent on the investigation into the murder of school teacher Kescia Branche, her father said that the family can only remain patient and hopeful that one day justice will prevail and his daughter's killer/s will be apprehended.