As investigations into the Ramada Princess Casino robbery continue, police last night swooped on a house at Vreed-en-Hoop on the West Coast of Demerara and arrested a man who had over $900,000 in his possession.
Crime Chief Wendell Blanhum confirmed the arrest to Stabroek News.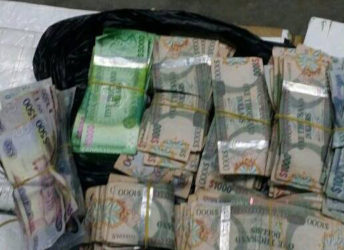 This newspaper was told by police sources that the money found in a bag was wet and they are yet to determine why this was so.
The alleged robber has been identified as Junior Stewart, a resident of Thomas Street, Kitty but he was arrested at his sister's Vreed-en-Hoop home.
Police sources say that it was only recently that the man was released on bail for unlawful possession of a firearm and ammunition.
Two other persons, a security guard of the hotel Andrew Blackman and Wayne Griffith, were arrested following the daring early Friday morning robbery, which left four employees injured.
Griffith was held after the raid while Blackman was held on Saturday.
Comments

(Trinidad Guardian) Education Minister Anthony Garcia says the University of Trinidad and Tobago (UTT) is of the view that the organisation is "overstaffed and to run the university efficiently it will mean they have to trim fat." But former Tertiary Education Minister Fazal Karim is warning that the decision to retrench 287 staff members, will "compromise the quality of teaching and learning and administration at the university," and may impact its accreditation with the Accreditation Council of Trinidad and Tobago (ACTT).

In preparation for Guyana's emerging oil and gas sector and the bustling business usually synonymous with the industry, the Pegasus Hotel is expected to undergo a huge expansion which includes office and residential rental spaces.

Police Commissioner Seelall Persaud is to resume his duties today after spending approximately six months on leave, Public Security Minister Khemraj Ramjattan yesterday confirmed to Stabroek News.
The Alliance For Change (AFC) yesterday launched a scathing attack on the union GAWU, accusing it of decades of sabotage of the sugar industry and not genuinely representing the interests of its workers.

The importance of foot health, especially for persons with diabetes, was emphasized by Podologist Yvonne Braithwaite yesterday, when she launched the local leg of Rovon Health Care Inc, which includes a foot spa.