A week since reclaiming responsibility for garbage collection within several city wards, the Georgetown Mayor and City Council (M&CC) is trying to iron out hiccups in its operations, while residents are trying to adjust.
Residents yesterday told Stabroek News that they were clueless about the collection schedule within their communities since the city had taken charge.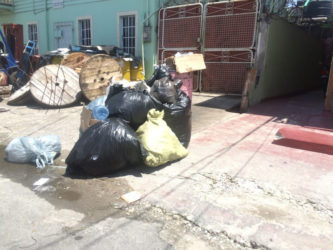 The municipality has assumed responsibility from private firms for garbage collection in Alberttown, Queenstown, Cummingsburg, Kingston, East Ruimveldt, North and East La Penitence, Lamaha Springs and Lamaha Park, and North and South Ruimveldt, and the main commercial districts of the capital.
M&CC Public Relations Officer Debra Lewis told Stabroek News that the municipality is working to inform residents of the new arrangements put in place. Lewis said the garbage collection within residential areas would be reduced to once per week, while the collection in the central business district would be reduced to once a day, as opposed to twice a week and twice daily, respectively, when the private companies were in charge of the collection.
The municipality decided to take control of the garbage collection in several areas in light of a threat by the city's two major garbage collection services, Puran Brothers Disposal Inc and Cevons Waste Management, to suspend their operations over hundreds of millions owed to them by City Council.
Yesterday, during a drive through Alberttown and Cummingsburg after midday, many residents were waiting for their garbage to be collected. Filled receptacles were placed outside of their yards waiting to be emptied. Meanwhile, in Kingston, North East La Penitence and North Ruimveldt, residents were upset at waste being left and piled up days after the scheduled collection date. In Kingston, there were reports of residents burning their garbage at the corner of Duke and Cowan streets.
"Well, it is the first week since we took over and anything for the first would be faced with some challenge but we are working to provide a better operation," Lewis said.
Michelle Corbin, a resident of Alberttown, said in the past week she placed her garbage on the roadside early on Monday morning but it was not picked up until late in the afternoon. She stated that Monday and Thursdays were the previously scheduled collection days.
Corbin said the council needs to operate in a more efficient manner since school would be reopening soon and students would be walking the streets and uncollected garbage could pose a health risk. "Children would be walking in the streets and they like to touch. They might touch the garbage bins and get sick. It would be a very unhealthy situation if they (M&CC) don't pick up the garbage early in the day," noted Corbin.
Another resident, who asked not to be named, said, "I only learnt of the new operation in the papers. As you can see (pointing to the receptacles outside), we are still waiting for the garbage to be collected." The resident noted that the collection should also be done early in the day or late in the afternoon to prevent "junkies" and stray animals "going through" the garbage and creating a mess.
Over in Queenstown, residents had also placed their garbage outside to be picked up. Some of the garbage was placed in garbage bags, while some was stored in drums.
One resident, Patricia (only name given), said garbage from her community was picked up last Friday night. The schedule in the area had Tuesdays and Fridays.
In Kingston, the garbage was picked up between Friday and Saturday night. The schedule before the switch was Tuesdays and Fridays, according to residents. "Saturday night they came and cleaned up the garbage. If you look around now, all the bins are empty. We don't have the trouble of the garbage littering the area because everyone would put their garbage in a bags before they toss it out," said Onica Luke, a resident of the area.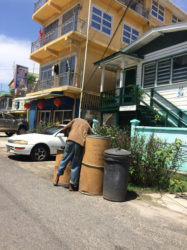 She, however, noted that some persons would normally place their garbage in the skids placed by the private collectors but they have been removed and she is worried persons would continue to dump garbage in the space and it would not be picked up.
Donna (only name given), who operates a shop and is a resident of Kingston, said the garbage had piled up in her yard and she had to asked the garbage collectors to help remove the waste. She stated that it had been stressful since there was uncertainty as to when the garbage would be picked up.
In East Ruimveldt, Shari Hastings said the garbage was in "huge heaps." She further stressed that although the garbage was picked up in sections of the community, the collectors did not pick up bits that were on the roadside. She added that stray animals contributed to the garbage being on the roadside.
Over in North East La Penitence, a resident and shopper said her garbage was picked up on Friday morning around 10 am. The former schedule was Tuesdays and Fridays.  Allison Scott said when she placed her garbage outside last Tuesday, it was not picked up. She noted that on a few occasions she had to pick up waste that had fallen from the receptacles dues to stray animals' interference. "I wish it go back to normal because this does not seem to be working out," Scott said. She believes that if the private collectors return, the situation would be a lot different.
Comments

(BBC) Bollywood superstar Sridevi has died after a cardiac arrest, her family says.
President David Granger will not be attending the Twenty-Ninth Inter-sessional Meeting of The Conference of Heads of Government of the Caribbean Community (CARICOM) in Haiti beginning on Monday.

Mashramani celebrations ground to halt for several families yesterday afternoon, when approximately 30 persons lost their homes after a fire of unknown origin ripped through three Victoria Road, Plaisance properties, including an apartment building.

Minister of State Joseph Harmon says that the US$3 million settlement offer made by Hong Kong Golden Telecom Limited (HKGT) on the outstanding balance for its purchase of government shares in the Guyana Telephone and Telegraph Company (GTT) is being actively considered, but the government's goal is to recover the entire US$5 million that is owed.

Opposition Leader Bharrat Jagdeo on Thursday criticised government and Minister of Finance Winston Jordan on the heels of the announced plan to borrow cash from local banks to reopen two sugar estates and to fund critical current and capital Guyana Sugar Corporation (GuySuCo) programmes.