Joyce Lawrence, of Plantation Grove, who was charged in February with trafficking a 16-year-old girl for labour, was yesterday found guilty of the crime and ordered to pay her victim almost $900,000 or face 12 months in jail.
Chief Magistrate Ann McLennan found Lawrence guilty of two counts of human trafficking as well as one count of confiscating the girl's identification card.
The trafficking charges against Lawrence, 43, of 306 Track X, Plantation Grove, stated that between July 1, 2014 and December 12, 2014, at a nightclub at Aishalton, South Rupununi, she recruited and harboured the girl by means of threats for the purpose of labour exploitation; and that between December 12, 2014 and December 24, 2014, at Samatta Point, Grove, East Bank Demerara, she recruited, transported and harboured the girl by means of threats for the purpose of labour exploitation.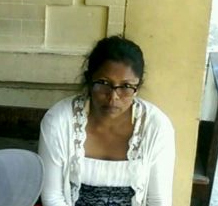 The third charge stated that between February 1 and February 8, 2015, at Samatta Point, Lawrence, being the employer of the girl, knowingly confiscated her identification card.
According to the Chief Magistrate, Prosecutor Neville Jeffers proved that the virtual complainant was recr4uited by Lawrence, that she was also transported by Lawrence from Aishalton to Georgetown and that she had been harboured and exploited by Lawrence.
During his submissions in July, Jeffers said Lawrence moved the child from Aishalton to Georgetown because she allegedly stole some money from a shop and Lawrence wanted her to work and pay her back at Samatta Point, Grove.
However, Jeffers asked the court to not believe that the money was stolen by the virtual complainant. He also said that the defendant admitted to the court that she was the holder of the virtual complainant's identification card as well as her cellular phone.
The Chief Magistrate said that though Lawrence denied the allegations made against her and had called on several witness 4to support her case, it was the court's opinion that she knew what she was doing and her evidence cast a lot of doubt on her case.
She also said that the virtual complainant's evidence was credible and consistent and noted that the girl had lamented that she always felt like a slave when working for the defendant.
Meanwhile, on the charge of confiscating the girl's identification card, the Chief Magistrate also found Lawrence guilty, while stating that the court did not believe her when she said she was keeping the card for "safe keeping" since on numerous occasions she would leave the child to "safe keep" her business.
Before sentencing, defence attorney Euclin Gomes maintained his client's innocence. He also said the court should reconsider its finding since the virtual complainant is a member of the defendant's extended family. Having said that, he then asked that his client be given a suspended sentence since she was extremely remorseful.
However, the Chief Magistrate fined Lawrence a total of $884,000 on the human trafficking charges as a payment of restitution to the virtual complaint, with an alternative of 12 months in prison. She is to pay the virtual complainant on or before September 30. On the charge of the confiscation of the complaint's identification card, Lawrence was fined $50,000 or eight weeks in prison in default.
Comments

Three employees of the New Building Society were today released on self-bail after being arraigned before a Georgetown court on eight counts of unlawful confinement alleged to have occurred at its main branch.

HARARE, Zimbabwe, CMC – West Indies sneaked into next year's World Cup in England but barely, after needing the fortune of Duckworth-Lewis to beat Scotland by five runs in their final Super Six match of the ICC World Cup qualifiers here today.

GENEVA,  (Reuters) – Armed groups execute and torture civilians in Libya in almost complete impunity seven years after the revolution that toppled Muammar Gaddafi, the United Nations human rights office said on Wednesday.

A group of international researchers and petroleum policy advisors will today meet Cabinet ministers to discuss the emerging oil and gas sector and give insight into prudent preparations for the revenues that will be generated from the industry.

A 41-year old mother from Central Amelia's Ward, Linden, died on Monday evening, having reportedly suffered severe haemorrhaging after delivering a 10-pound baby at the Linden Hospital Complex.