A young couple of Cumberland Village, East Canje, Berbice was robbed of a total of $500,000 in cash, jewellery and items around 02:00 am yesterday.
The five men who were armed with guns and cutlasses gained entry to the home through the only window which was not barred at the time, and located in the washroom. A police source informed Stabroek News, that no arrests have been made as yet.
According to Navendra Singh, also known as 'Suresh Blingerz', 27, of Lot 74 Bristol Street, Cumberland Village, East Canje, his three year old son, his wife and himself were asleep when they were awoken by a noise coming from the back section of their home. He stated that he is assuming that one of the men entered through the window and opened the door for the others, as he heard a noise coming from the back door.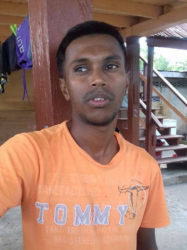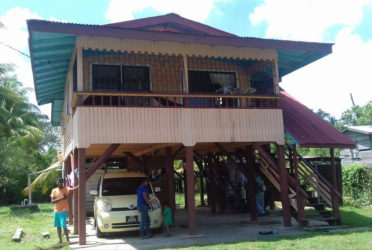 Singh said, "Them come in and just demanding that them want all the money, phone and the gadgets we had".
He related that he pleaded with the men not to hurt his family but rather to take all of their valuables. Singh highlighted that as the men entered he raised an alarm, "When we heard the door open I start scream through the window for neighbours. When them come in the house we room door did lock so them kick it down. Them jump up on the chair through the hall part and point the gun to me and said don't shout or say anything or them gone shoot me… Then them come in, them scramble me chain from me neck and me married ring…One ah them brace the gun to me side and tell me if I only move he gon shoot me", he recounted.
Singh added that he told them whatever money he had was in the wardrobe. According to him, the perpetrators may have been persons known to him, since during the ten minutes ordeal they told him, "Suresh co-operate and we nah gon do you nothing".
The men escaped with two Samsung galaxy phones, a tablet, $40,000 in cash and an undisclosed amount of jewellery.
The victims totaled their losses at $500,000. The couple also noted that last Saturday evening they heard someone attempting to break into their home which led them to raise an alarm.
However, after a search was carried out in the yard, no one was found.
Comments

(BBC) Bollywood superstar Sridevi has died after a cardiac arrest, her family says.
President David Granger will not be attending the Twenty-Ninth Inter-sessional Meeting of The Conference of Heads of Government of the Caribbean Community (CARICOM) in Haiti beginning on Monday.

Mashramani celebrations ground to halt for several families yesterday afternoon, when approximately 30 persons lost their homes after a fire of unknown origin ripped through three Victoria Road, Plaisance properties, including an apartment building.

Minister of State Joseph Harmon says that the US$3 million settlement offer made by Hong Kong Golden Telecom Limited (HKGT) on the outstanding balance for its purchase of government shares in the Guyana Telephone and Telegraph Company (GTT) is being actively considered, but the government's goal is to recover the entire US$5 million that is owed.

Opposition Leader Bharrat Jagdeo on Thursday criticised government and Minister of Finance Winston Jordan on the heels of the announced plan to borrow cash from local banks to reopen two sugar estates and to fund critical current and capital Guyana Sugar Corporation (GuySuCo) programmes.