Sixty young people from across the Commonwealth, including Samantha Sheoprashad from Guyana, have been selected to receive a prestigious Queen's Young Leaders Award.
A release from the programme said that the Queen's Young Leaders Awards recognise and celebrate exceptional young people aged 18 to 29 in the Commonwealth who are driving change within their communities and transforming people's lives. Now in its third and penultimate year, the 60 young people announced become part of the growing Queen's Young Leaders community
Sheoprashad, 26 years old from Georgetown, has been chosen in recognition of her work with disadvantaged communities in Guyana.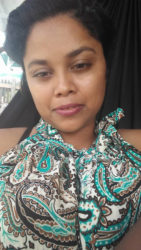 Sheoprashad said, "This Award will expose me to unique resources such as mentoring and team builders and will help me to launch new projects within my community."
As part of the Award, winners will receive bespoke mentoring and online learning provided by the University of Cambridge's Institute of Continuing Education. Award winners will attend a week-long residential programme in the UK in June, when they will receive their Award at Buckingham Palace from Queen Elizabeth.
The Queen's Young Leaders Programme was established in 2014 by The Queen Elizabeth Diamond Jubilee Trust in partnership with Comic Relief, The Royal Commonwealth Society and the University of Cambridge's Institute of Continuing Education, in recognition of The Queen's lifetime of service to the Commonwealth.
Comments

President David Granger, earlier today, attended the wedding reception of Minister within the Ministry of Communities with responsibility for Housing, Valerie Patterson- Yearwood and .

Grace Mugabe   JOHANNESBURG,  (Reuters) – South African police confirmed on Wednesday that Zimbabwean first lady Grace Mugabe remained in the country and had applied for diplomatic immunity after being accused of assaulting a 20-year-old model in an upmarket Johannesburg hotel.

Daniel Craig   LONDON, (Reuters) – British actor Daniel Craig has confirmed he will reprise the role of James Bond one last time, ending months of speculation.

UN experts condemn racist violence in U.S., urge investigations GENEVA, (Reuters) – United Nations human rights experts called on the United States today to combat rising racist violence and xenophobia and to prosecute perpetrators of hate crimes.

The twin-engine Beechcraft seized by authorities on an improvised airstrip on Sunday in the North Rupununi, Region Nine area, was yesterday confirmed as bearing a registration number belonging to an investment company in Brazil.