US-based businessman Marcus Brian Bisram who was charged with the murder of carpenter Faiyaz Narinedatt has hired a New York law firm to represent his interests.
An Interpol red notice has been issued for Bisram following a wanted bulletin that was released here and the laying of a murder charge against him.
A press release yesterday from New York law firm Helbock, Nappa & Gallucci said that it had been retained by Bisram "to handle his American interests and work in  conjunction with foreign counsel".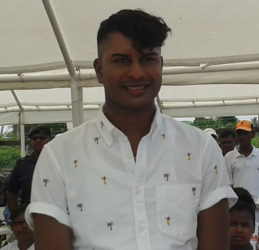 "Mr Bisram would first and foremost give his
condolences to the family of Faiyaz Narinedatt. Mr Bisram is known in Guyana for his charitable work supporting education and law enforcement. Mr Bisram regularly visits Guyana on his Humanitarian mission. Mr Bisram denies the rumors, lies and speculation that have been widely circulated throughout the Guyanese community", the press release said.
It added that Bisram's attorneys have been and will continue to be in contact with and cooperate with Guyanese authorities and local counsel.
Stabroek News contacted the law firm to find out whether Bisram would be surrendering to the authorities here but the attorney handling the case was not available.
Bisram, 27, who is believed to be in the United States, was named by the police here as a co-defendant in the murder of Narinedatt.
Five other men, including Bisram's bodyguard, have been formally charged with the murder. Bisram, police have alleged, procured and commanded Orlando Dickie, Radesh Motie, Diodath Datt, Harri Paul Parsram, and Niran Yacoob to murder Narinedatt between October 31 and November 1, 2016, at Number 70 Village, Berbice.
Narinedatt was last seen alive at a party in Number 70 Village that was hosted by Bisram. It has been alleged that Bisram made sexual advances towards Narinedatt but was rejected, which prompted him to order his associates to kill the carpenter.
It is believed that the defendants, who were armed with several objects, dealt Narinedatt several lashes about his body until he fell unconscious. His body was then placed in the trunk of a car, driven to the Number 70 Village road and dumped.
Bisram's mother, Sharmila Inderjali, and another woman, Maryanna Lionel, have also been jointly charged with corruptly offering $4 million to a police officer to forego charges against Motie, Datt, Parsram and Yacoob, who were in custody for the murder, and Bisram.
Comments

On Friday, the Ministry of Foreign Affairs concluded a five-day orientation programme for newly recruited Foreign Service Officers (FSOs), which was held at the Roraima Duke Lodge in Kingston.

HARARE,  (Reuters) – Robert Mugabe resigned as Zimbabwe's president on Tuesday a week after the army and his former political allies moved against him, ending four decades of rule by a man who turned from independence hero to archetypal African strongman.

Travis Cleveland c/d 'Spin and Kill', 31 years , unemployed of 337 South Sophia has been charged with murder of Jamal Munroe which occurred on November 03, 2017 at Black and White Bridge, 'C' Field, Sophia, ECD, the police say.

YANGON/NAYPYITAW, (Reuters) – Members of the U.S. Congress said today operations carried out against the Rohingya Muslims in Myanmar had "all the hallmarks" of ethnic cleansing, while the country's leader Aung San Suu Kyi expressed doubts about allegations of rights abuses.

The leadership of the Alliance For Change (AFC) is to formally write A Partnership for National Unity (APNU) on a revision of the Cummingsburg Accord which birthed the coalition and saw it winning the 2015 general elections.