US-based businessman Marcus Brian Bisram who was charged with the murder of carpenter Faiyaz Narinedatt has hired a New York law firm to represent his interests.
An Interpol red notice has been issued for Bisram following a wanted bulletin that was released here and the laying of a murder charge against him.
A press release yesterday from New York law firm Helbock, Nappa & Gallucci said that it had been retained by Bisram "to handle his American interests and work in  conjunction with foreign counsel".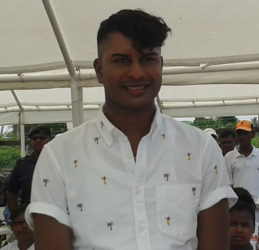 "Mr Bisram would first and foremost give his
condolences to the family of Faiyaz Narinedatt. Mr Bisram is known in Guyana for his charitable work supporting education and law enforcement. Mr Bisram regularly visits Guyana on his Humanitarian mission. Mr Bisram denies the rumors, lies and speculation that have been widely circulated throughout the Guyanese community", the press release said.
It added that Bisram's attorneys have been and will continue to be in contact with and cooperate with Guyanese authorities and local counsel.
Stabroek News contacted the law firm to find out whether Bisram would be surrendering to the authorities here but the attorney handling the case was not available.
Bisram, 27, who is believed to be in the United States, was named by the police here as a co-defendant in the murder of Narinedatt.
Five other men, including Bisram's bodyguard, have been formally charged with the murder. Bisram, police have alleged, procured and commanded Orlando Dickie, Radesh Motie, Diodath Datt, Harri Paul Parsram, and Niran Yacoob to murder Narinedatt between October 31 and November 1, 2016, at Number 70 Village, Berbice.
Narinedatt was last seen alive at a party in Number 70 Village that was hosted by Bisram. It has been alleged that Bisram made sexual advances towards Narinedatt but was rejected, which prompted him to order his associates to kill the carpenter.
It is believed that the defendants, who were armed with several objects, dealt Narinedatt several lashes about his body until he fell unconscious. His body was then placed in the trunk of a car, driven to the Number 70 Village road and dumped.
Bisram's mother, Sharmila Inderjali, and another woman, Maryanna Lionel, have also been jointly charged with corruptly offering $4 million to a police officer to forego charges against Motie, Datt, Parsram and Yacoob, who were in custody for the murder, and Bisram.
Comments

Cabinet has approved a recommendation from Minister of Social Protection Amna Ally for the regularisation of the employment of sweepers/cleaners, particularly those attached to public schools, Minister of State Joseph Harmon said yesterday.

The Ministry of Public Health (MoPH) and the Mayor and City Council (M&CC) will collaborate on a joint venture to improve the facilities at the Festival City Health Centre.
(Trinidad Express) Prime  Minister Dr Keith Rowley yesterday encouraged Trinidad and Tobago to open its homes to Dominicans displaced by Hurricane Maria.
Pausing to wipe away tears, Dominican Prime Minister Roosevelt Skerrit yesterday appealed to the world for help.

After residents of Victoria, East Coast Demerara, turned out on Wednesday in their numbers to protest the state of their main access road, the Ministry of Public Infrastructure has started remedial works.