Kester Harvey, a former Citizens Bank manager, appeared before a city court yesterday on a charge of fraudulently converting $3 million to his own use.
Harvey pleaded not guilty to the charge alleging that between October 1 and October 31 at Georgetown, he, being entrusted by Pat Isaacs with $3 million cash to deposit same in Citizens Bank account #218791074, fraudulently converted same to his own use and benefit.
The father of three, who resides at Lot 1664 Herstelling, East Bank Demerara, was represented by attorney Leslie Sobers.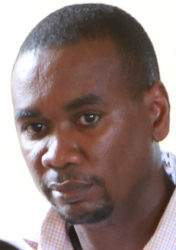 Sobers made a plea on the defendant's behalf for bail to be granted, while arguing that his client had handled hundreds of millions of dollars at Citizens Bank and IPED for eight years and six years, respectively, and had never been accused of wrongdoing.
Sobers called the allegation "spurious," while noting that from the charge read, the prosecution seemed uncertain of the timeframe the crime allegedly occurred.
Prosecutor Seon Blackman objected to bail being granted, given the amount of money involved and the gravity of the allegation. The prosecution, however, asked that were bail to be granted, that it be a substantial amount and that the accused be made to surrender his passport.
Sobers assured that his client would have no problem submitting his passport as he committed no offence and has no intentions of leaving the jurisdiction.
Bail was granted to Harvey in the sum of $250,000 by Magistrate Faith McGusty on the condition that he lodge his passport and report to the Brickdam Police Station weekly. The matter has been adjourned to December 22, when it would be heard by Chief Magistrate Ann McLennan.
Comments

On Friday, the Ministry of Foreign Affairs concluded a five-day orientation programme for newly recruited Foreign Service Officers (FSOs), which was held at the Roraima Duke Lodge in Kingston.

HARARE,  (Reuters) – Robert Mugabe resigned as Zimbabwe's president on Tuesday a week after the army and his former political allies moved against him, ending four decades of rule by a man who turned from independence hero to archetypal African strongman.

Travis Cleveland c/d 'Spin and Kill', 31 years , unemployed of 337 South Sophia has been charged with murder of Jamal Munroe which occurred on November 03, 2017 at Black and White Bridge, 'C' Field, Sophia, ECD, the police say.

YANGON/NAYPYITAW, (Reuters) – Members of the U.S. Congress said today operations carried out against the Rohingya Muslims in Myanmar had "all the hallmarks" of ethnic cleansing, while the country's leader Aung San Suu Kyi expressed doubts about allegations of rights abuses.

The leadership of the Alliance For Change (AFC) is to formally write A Partnership for National Unity (APNU) on a revision of the Cummingsburg Accord which birthed the coalition and saw it winning the 2015 general elections.