A Canje family's holiday season took a turn for the worse, as a father and son will now have to be laid to rest together, since they were discovered dead one day apart.
On Monday afternoon around 4 pm, the body of 40-year-old Bhognarine Isbarran also known as 'Gaga', was pulled from a trench located in the backlands of Cumberland Village, East Canje, Berbice. According to relatives, the former cane harvester left his Cumberland home to go fishing in the backlands early on Monday morning. This was a norm for him since he had stopped working at the estate, the relatives pointed out.
His mother, Niniwattie Persaud also known as 'Nado', told Stabroek News, that a search party was formed after her son never returned home. However, the body of Isbarran who suffers from epilepsy was discovered submerged in a trench where he usually fished.
His mother relayed that five years ago they learnt that her son was epileptic. She further explained that he had separated from his wife around the same time.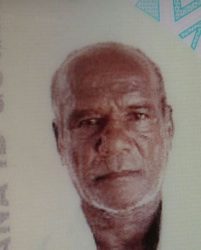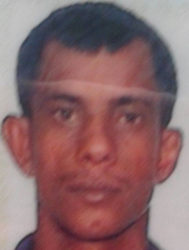 An autopsy which was conducted on Isbarran's body yesterday revealed that he had died from drowning.
Meanwhile, shortly after receiving the results of the autopsy, Persaud learnt that the body of Isbarran's father, her former husband had been discovered in his home.
The partly decomposed body of Budhram Isbarran, 67, who lived alone, was discovered on the floor of his Lot 47 Reliance Settlement, East Canje, home. Relatives discovered Isbarran's partly nude body yesterday morning.
Isbarran's nephew, who lives in the same village told Stabroek News, that his uncle had visited his home on Sunday, and that was the last time he saw him.
"He came over by me Sunday and say he ain't feeling too well, and that he na goin' go no way", the nephew relayed.
However, he stated that his uncle then went to the market where he purchased his weekly "fish and greens" and proceeded home. "He say like he neck back been a hurt him".
However, the nephew who overlooked Isbarran, stated that he was caught up searching for some of his missing cows, hence he did not pay much attention to the man, a "regret", he now has.
"Me come home till in the night and me ask me wife if she see him back, and she say no". He explained that the next day he left home early to continue the search for his cattle and returned late again. "This morning ah send across the workman to see where he deh. The workman go and come back and say he swell up, and deh in the house".
Neighbours relayed to Stabroek News, that Isbarran was last seen on Monday. They also revealed that they had heard him groaning Monday evening, but did not go to check on him.
Senior Isbarran in his spare time assisted with clearing bushes at the Reliance Burial Ground. He was fondly known to Canje persons as the, "Burial ground prince".
A post mortem examination will be conducted on the body of senior Isbarran sometime during the week. The relatives of both men have been left in a distraught state, as they now have to begin the funeral preparations for both father and son.
Comments

MUMBAI, (Reuters) – Opener Rohit Sharma smashed his third one-day international double century to set up India's comprehensive 141-run win against Sri Lanka in the second match of the series at Mohali today.

President David Granger this morning said that he is responsible for the US$18M ExxonMobil signing bonus being put into an escrow account at the Bank of Guyana, a decision he believes was necessary at the time so that Guyana could be prepared for a National Security Emergency.

(Trinidad Guardian) Ramraj Samaroo yesterday appeared in the Couva Magistrates Court charged with the murder of his younger brother.

Auditor General Deodat Sharma has started investigating the failure by government to transfer the US$18 million signing bonus paid by ExxonMobil last year to the Consolidated Fund, in keeping with the Constitution.

Suspended PPP/C Member of Parliament (MP) Bishop Juan Edghill was yesterday arrested after an attempt to enter the compound of the Public Buildings, where the resumption of the consideration of the national budget estimates saw a brief opposition walkout over House Speaker Dr Barton Scotland's decision to allow the approval without scrutiny of allocations slated to be examined at the previous day's disrupted session.