KABUL/WASHINGTON, (Reuters) – The Afghan Taliban's leadership council met yesterday to start considering succession after a U.S. drone strike in Pakistan targeted its commander, two Taliban sources told Reuters, in the strongest sign yet the insurgency had accepted he was dead.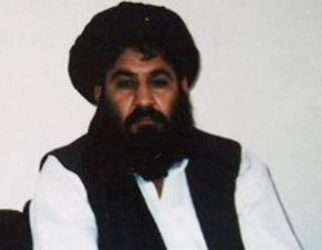 The strike targeting Mullah Akhtar Mansour on Saturday was perhaps the most high-profile U.S. incursion into Pakistan since the 2011 raid to kill al Qaeda leader Osama bin Laden and sparked a protest by Islamabad that its sovereignty had been violated.
If confirmed, Mansour's death could trigger a succession battle within a Taliban insurgency that has proven extremely resilient despite a decade and a half of U.S. military deployments to Afghanistan.
The Taliban have not yet officially confirmed that Mansour was killed and there were conflicting accounts yesterday, with the Afghan government declaring him dead, while Washington stopped just short of doing so.
"At this point, we're not quite prepared to confirm that he was killed, though it appears likely," U.S. Homeland Security Secretary Jeh Johnson told "Fox News Sunday."
The Taliban sources said that Sunday's meeting of the Rahbari Shura, or leadership council, included discussion of possible successors, including guerrilla commander Sirajuddin Haqqani.
Haqqani, who has a $5 million U.S. bounty on his head, would likely prove an even more implacable foe of Afghan government forces and their U.S. allies.
He is widely seen by U.S. and Afghan officials as the most dangerous warlord in the Taliban insurgency, responsible for the most bloody attacks, including one last month in Kabul in which 64 people were killed.
"Based purely on matters of hierarchy, (Haqqani) would be the favourite to succeed Mansour," said Michael Kugelman, a senior associate at the Woodrow Wilson Institute think tank.
The Taliban were also considering Mullah Mohammad Yaqoob, the son of Taliban founder Mullah Mohammad Omar, a potential unifier because of his father's name. Former Guantanamo detainee Mullah Abdul Qayyum Zakir and Mullah Sherin were also cited, the sources said.
The Saturday drone strike, which U.S. officials said was authorised by President Barack Obama, showed the United States was prepared to go after the Taliban leadership in Pakistan, which the government in Kabul has repeatedly accused of sheltering the insurgents.
Pakistan protested on Sunday, saying the U.S. government did not inform Prime Minister Nawaz Sharif beforehand.
"This is a violation of Pakistan's sovereignty," Sharif told reporters in London, saying it was still unclear who was killed.
A U.S. official, speaking on condition of anonymity, acknowledged that Washington only notified Pakistan after the operation.
It was unclear how long Mansour might have been inside Pakistan before the U.S. strike. Pakistan's Foreign Ministry disclosed that a passport found at the site, bearing a different name, carried a valid Iranian visa.
It added that the purported passport holder was believed to have returned to Pakistan from Iran on Saturday, the day of the drone strike targeting Mansour. Photos of the passport, bearing the name Wali Muhammad, seen by Reuters showed a passing resemblance to some of the old photos available of Mansour.