OTTAWA,  (Reuters) – Canadian Prime Minister Justin Trudeau was knocked off message as he marshaled his cabinet back to work this week, distracted by recent spending miscues involving top ministers in the first major wobble of his Liberal government.
While Trudeau's popularity remains sky-high 10 months after being elected to a shock majority government, his inexperienced cabinet – much touted for its gender equality and racial diversity – may be his Achilles heel, under scrutiny for questionable expense claims and charges of entitlement.
"These stories underline a potential vulnerability for the party, since they feed into the narrative of Liberal entitlement," said a senior Liberal party member who declined to be named because of the sensitivity of the situation.
"The opposition are going to seize on this and if these headlines continue we could see a drip drip drip that gradually damages the government."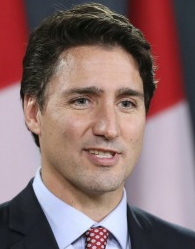 The last Liberal government, ousted in 2006, was tarnished by a sponsorship scandal involving corruption and misdirection of funds to Liberal supporters in the province of Quebec.  The Conservative opposition, decimated at the polls last October and unable to find a crack in the popular Trudeau's armour, has pounced on the spending issues and tried to tie it to past Liberal spending issues.  "Every day there is a new scandal about expenses, and we think it reflects their addiction to spending, to not managing Canadians' money properly – and that's connected to the enormous deficit as well," aid Maxime Uphupe, press secretary to Conservative leadership hopeful and member of parliament Maxime Bernier. Trudeau, the 44-year-old son of former prime minister Pierre Trudeau, has hardly put a foot wrong since his Liberals took office in November, being frequently mobbed by selfie-seeking fans.
According to Nanos Research, 74 percent of Canadians say Trudeau has the qualities of a good political leader. With both the Conservative and New Democrat opposition mired in leadership reviews, no other politician comes close.
But Health Minister Jane Philpott is being investigated by the ethics commissioner for using a luxury car service owned by a Liberal Party supporter and Environment Minister Catherine McKenna is under fire for spending C$6,600 ($5,011) on a photographer at the Paris climate conference last year.
Philpott apologized and has promised to repay the bill and McKenna said her department will review its spending policies.
The controversies dominated Trudeau's news conferences on Monday at the close of a cabinet retreat at which he'd hoped to outline his government's fall agenda, and on Tuesday as he unveiled transit funding.
"What the Liberals have to be sensitive to is an accumulation effect," pollster Nik Nanos said. "One or two things don't usually move the numbers, but if people see a pattern of behavior, it starts to shape the image and brand of the government of the day."
A spokesman for the Prime Minister's Office said the government is not going to minimize legitimate debate over ministerial spending, but it is determined to focus on economic growth and helping the middle class.
"We're not dismissing this, but we're steadfast in our approach to what needs to be done … we're not going to be distracted by a partisan back-and-forth," said Cameron Ahmad.
Around the Web