DES MOINES, Iowa, (Reuters) – A man known to police for several run-ins with the law, most recently for waving a Confederate flag at a football game, was arrested as a suspect in the ambush killings of two Iowa officers shot in their patrol cars early yesterday, authorities said.
Police offered no possible motive for what precipitated the attacks, which unfolded shortly after 1 a.m. (0600 GMT) in Iowa's capital, Des Moines, and its affluent Urbandale suburb, nor did they explain what led them to the suspect, Scott Michael Greene, 46. Details of the shootings and the circumstances of Greene's arrest were not made public.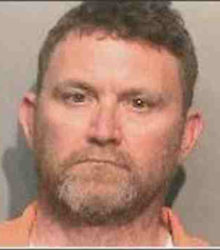 But the body of the first slain officer was found near the stadium where Greene had been expelled by police last month. Greene, who is white, was removed after waving a Confederate battle flag in front of black spectators while the national anthem was being played at the start of a high school football game.
The two slain policemen were both white, each shot while sitting in his cruiser. Urbandale officer Justin Martin, 24, was found dead first, and the body of Sergeant Anthony Bemino, 38, of the Des Moines department, was discovered 20 minutes later.
Three bullet holes were visible in Bemino's patrol car in Des Moines, about 2 miles (3 km) from the Urbandale shooting scene.
"These officers were ambushed," Des Moines police spokesman Paul Parizek told a news conference.
Urbandale Police Chief Ross McCarty said Greene, who has not been formally charged in the crimes, was well known to local police from previous encounters with law enforcement, including the flag-waving incident.
In 2014, he pleaded guilty to interference with official acts in an incident involving police. The same year, he also pleaded guilty to harassment and was placed on probation for a year. Court records did not specify the nature of those underlying offenses. He was charged in 2001 with assault and criminal mischief for allegedly hurling a soda can from the window of a vehicle, but those charges were dismissed.
Wednesday's shootings marked the latest in a string of attacks on police across the country during the past several months, at a time of intense public debate over racial bias and the use of lethal force in the U.S. criminal justice system.
Some 52 police officers have been fatally shot while on duty in the United States so far this year, up 33 from the same point in 2015, according to the National Law Enforcement Officers Memorial.
SUSPECT HOSPITALIZED UNDER GUARD
Parizek said Greene was being held under guard at a hospital, but it was not made clear why. Asked about the suspect's condition, Parizek replied: "Sick. I don't know."
Parizek said charges against Greene could come after police interview him and finish gathering evidence from the scenes. An arraignment was possible as early as Thursday morning, he said.
Details of the flag-waving incident emerged from a 10-minute video clip posted on YouTube last month by a user identifying himself as Scott Greene appearing to document the episode.
In it, a voice, apparently Greene's, is heard complaining to police that "African-American people" took the flag from him in the stands and "assaulted" him," adding that he wanted to press charges.
"There were people in the crowd who felt that was offensive, and that he should be removed from the stadium," McCarty said of the incident.
Police officers shown in the video said he was removed from the stadium because he caused a disturbance.
"You have to understand, in the current social climate that we're in, when you fly the Confederate flag standing in front of several African-American people, that's going to cause a disturbance, OK, whether you intended to or not," a female officer is heard telling the man in the video.
McCarty said high school officials banned Greene from the property following that incident but had been trying to determine how to enforce the ban given that Greene has a daughter attending the school.
"Most of the officers that have been in the city have some understanding of Mr. Greene," McCarty said. "They've taken trips to his house, or delivered service to him. Never to anything of this extent though."
In a 2007 bankruptcy filing, Greene said he was single with three children.
President Barack Obama paid tribute to the two fallen Iowa officers in a statement condemning their killings as "shameful acts of violence."
The two major-party nominees for U.S. president also weighed in from the campaign trail.
Democrat Hillary Clinton said on Twitter she was "Heartbroken for the families of two brave officers who were killed in Iowa. There's no justification for this kind of violence." Republican Donald Trump said on Twitter, "An attack on those who keep us safe is an attack on us all."
Comments

CARACAS,  (Reuters) – President Nicolas Maduro's government won a majority of governorships in yesterday's regional election, according to official results, drawing fraud suspicions from the opposition whom polls had shown was poised for a big win.
MOGADISHU,  (Reuters) – More than 200 people were killed by twin bomb blasts that struck busy junctions in the heart of Somalia's capital Mogadishu, officials said yesterday, marking the deadliest attacks since an Islamist insurgency began in 2007.

BAGHDAD, (Reuters) – Iraqi government forces took control of "vast areas" in the region of Kirkuk, including oilfields west of the city, in the early hours of today, Iraqi state TV said, but the Kurdistan Regional Government (KRG) disputed the assertions.
DUBLIN,  (Reuters) – Ireland dispatched its armed forces to bolster flood defences yesterday and warned people against non-essential travel as the remnants of Hurricane Ophelia threatened the country with its worst storm in 50 years.
(Reuters) – A drone hit an airplane landing at a Quebec City airport this week, the first time an unmanned flying object has collided with commercial aircraft in Canada, Transport Minister Marc Garneau said yesterday.