Dear Editor,
Your front page picture of Saturday Sept 3, taken by Keno George, brought tears to my eyes. According to the caption it took two men to restrain that tiny innocent monkey. It took two men because the monkey was obviously traumatised and fearful of the terrible condition in which it found itself. Editor, there is a long history of live wild animals being sold around Stabroek, Mon Repos and other markets under totally inhumane conditions. Why is this allowed to happen in the first place?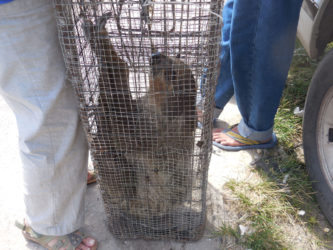 A few examples I have personally observed include iguanas tied up on a stick baking in the sun; a sloth squeezed into a cat trap, roasting in the 11 am sun (see photo attached); and 10 parrots packed into a tiny cage without water/food, their feathers plucked from stress. How much more abuse can our wildlife take? Which organisation or ministry is going to take the lead and do something about this depressing situation?
On Aug 30, 2016 I read in Stabroek News that the Guyana Wildlife Conservation and Management Commission is to be set up under the Wildlife Conservation and Management Bill passed by the National Assembly on August 9, 2016. This bill provides for Guyana's wildlife to be traded under humane conditions. I totally support any law or action that improves conditions for our animals but too often our laws and regulations never get implemented because of a shortage of staff or budget or perhaps just a lack of interest by the people in charge.
Our wildlife in public markets needs our help right now! To respond to their needs we need to document the conditions under which our wildlife is being sold in public markets and whether those who trade in wildlife have the authorization to do so and under what conditions and what ministry or organisation is responsible for inspections.
"In the end we will conserve only what we love. We will love only what we understand and we will understand only what we are taught" – Baba Dioum.
Yours faithfully,
Syeada Manbodh
Around the Web