(Trinidad Guardian) Young West Indies pacer Keemo Paul's decision to break the stumps and appeal for a run-out against Zimbabwe's non-striker Richard Ngarava who was backing up just outside his crease, has gained support from Malcolm Holder, a former Test umpire.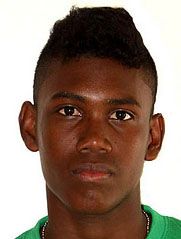 Ngarava, whose bat appeared to be on the line as the bails came off, was given out after the umpires referred the situation to video review. The line belongs to the fielding side. The method of dismissal brought swift rebuke from several current and former internationals watching the game.
England ODI captain Eoin Morgan described it as "disgraceful behaviour" and said the West Indies should be embarrassed.
His countryman and fellow international Jos Buttler called it "embarrassing". England fast bowler James Anderson also tweeted that it was "disgraceful" while Aussie coach Darren Lehmann said it was "unbelievable". Former England international and cricket commentator Dominic Cork was also critical of the young West Indies team.
But Holder who spent 27 years as a first-class umpire during which time he officiated in 11 Tests and 19 One-Day Internationals, said yesterday he was fully supportive of Paul's actions.
"A non-striker leaves his ground early for the sole purpose of gaining extra distance to enable him to get safely to his ground at the far end and it is against the laws. Why should he be able to break the law, wilfully, but a bowler accidentally overstepping the popping crease is penalised by being no- balled?
"Talk of the bowler who effects the run out acting against the spirit of cricket is simple garbage and hypocrisy. Are umpires supposed to apply the laws selectively? The fact of the matter is that the non-striker in this instance is acting against the law and all the laws apply equally to every player," Holder explained.
He added: "Whenever such a run out happens there is a big outcry – wrongly so. I am fully supportive of the action of the West Indies bowler and believe that the only way of eradicating the practice of non-strikers backing up illegally is to run them out."
He described the criticisms being levelled at the West Indies as "hot air" and "crass".
Holder's take on the controversy has been echoed by other commentators and international cricketers. Indian offspinner Ravichandran Ashwin noted on twitter: "Every single day, I can't push the front line, why should a batsmen gain yards?" Former West Indies fast bowler Ian Bishop, commentating on the game, tweeted: "The negligence has to stop at some point.
The law is the law. Why should young cricketers feel bad for following the law?" England fast bowler Stuart Meaker tweeted: "Why bring in a law that allows it and then say it's not in the spirit. Isn't it poor sportsmanship that he's stealing a run?"
Retired West Indies fast bowler Tino Best described Paul's actions as "smart play" while respected Indian cricket commentator Harsha Bhogle tweeted: "Amazed that the spirit of the game never comes up when batsmen hit the ball and stay on but does when a bowler mankads a batsman."
Around the Web